The hard-hitting soap for a country at war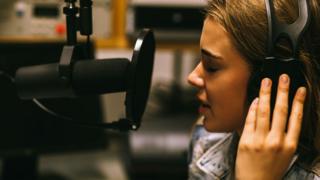 A sorrowful woman's voice begins to sing - and even if you don't speak a word of Arabic you can guess that the radio soap opera Sad Northern Nights is going to dig much deeper than the usual kitchen-sink drama.
"She's lamenting her lost homeland," Sami, Radio Alwan's special projects director smiles ruefully. "She's singing, "we want to come back to you, we want to be reunited, we won't wait until tomorrow until all your wounds are healed."
The traffic honks impatiently beneath his window as we listen. Few people here know that in this unimposing office in a busy western suburb of Istanbul a radio drama is being broadcast to war-torn Syria. And they mustn't know, explains Sami, because not everyone likes the fact that Radio Alwan is an independent station which tempers neither its news bulletins nor its soap opera's plots in order to toe government or opposition parties' lines.
They pay for that. Last month, staff in the station's Aleppo office were beaten up by masked men, who stole their equipment.
---
Find out more
From Our Own Correspondent has insight and analysis from BBC journalists, correspondents and writers from around the world
Listen on iPlayer, get the podcast or listen on the BBC World Service, or on Radio 4 on Saturdays at 11:30
You can also listen to a 30-minute documentary on Radio Alwan by Sara Davies, for Between the Ears on Radio 3
---
Sami takes me to the tiny recording studio where the black sound-proofing foam that covers the wall is impregnated with the whiff of stale cigarette smoke seeping in from the kitchen next door. Miran, a young actor holding a script theatrically far out in front of him, nods for me to go in. As soon as the door closes he begins to shout dramatically and then suddenly making his voice go higher, he throws back his head and laughs.
The engineer we can see through the tiny glass window reads a few lines of another part and once more, Miran cackles like a madman. The editor makes him do it again. Miran looks at the clock nervously, but agrees to go for one last take. As he hurries out of the studio I dash down the corridor after him asking which part he's playing and what he was doing in the scene.
"I'm Sariah," he says. "And I'm crazily in love with the main character, Thuraya. She's a widow - and - well her teenage son's been stolen by IS-gunmen and - look, I'm so sorry," he says apologetically "but I have to run back to the newsroom - I've got to put the bulletin together for the next hour."
Radio Alwan works on a distinctly low budget. Many members of the cast are played by the station's newsreaders and presenters and yet their drama is surprisingly polished. The studio engineers take particular pride in their sound effects. "Bombings can be taken from the internet," they explain. "But did you know that rhythmically clicking your fingers can sound like the first drops of a heavy rain shower?"
They're interested in how the Archers - the BBC's long-established rural radio soap opera, broadcast in the UK - does its animal sounds. But when I reveal how that programme dramatised a stabbing recently, they say, "Oh that one's easy. They often do it in Sad Northern Nights - you just stick a steak knife in a cabbage."
If the soap was about anywhere other than Syria, you might call the storylines melodramatic, but as the scriptwriter Mahmoud points out, all his plots resonate with Syrians because they're just hearing their own story.
Is it really so unbelievable, he asks politely, that a disillusioned teenager whose father has been killed by the regime should prove easy pickings for IS? That a desperate widow should think of joining the migrant trail? Or that an educated lawyer and founding member of the free Syrian Army should think of nothing but revenge after his entire family is wiped out in an air strike?
He winds a lock of his hair around his fingers and lets the curls spring back. "My drama doesn't try to give answers," he explains, "but it does aim to get our listeners asking themselves what they would do in such a situation."
And perhaps it also gives them comfort - a 15-minute pause in their lives where they can switch on the radio and lose themselves in Dima's hopeless crush on Sariah and Sariah's desperate wooing of Thuraya.
Mahmoud smiles. "Our characters need to be realistic," he says. "And Syrians are just regular people, war or no war. Even through these brutal days they love and they laugh and they live."
In the newsroom, Miran is frantically editing the running order as Mais prepares to read the bulletin. Later, after work, she'll become Thuraya in Sad Northern Nights, desperate to get her son back from IS before he's brainwashed. "Does she manage I ask," as she bundles her scripts, "and does she get her man?" But Sami cuts in quickly.
"Season 3," he grins ushering me away. "Coming soon."
---
Listen to Emma Jane Kirby's report from Radio Alwan for the PM programme on BBC Radio 4: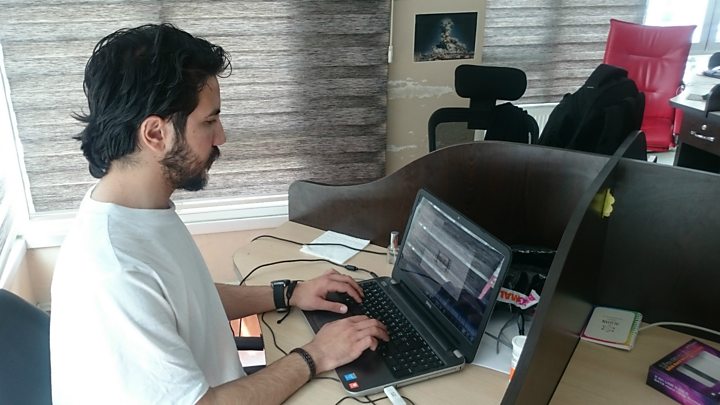 Subscribe to the BBC News Magazine's email newsletter to get articles sent to your inbox.