Should Perth be City of Culture?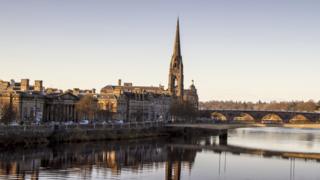 Perth is hoping to be the UK's 2021 City of Culture. But - successful or not - will the bid give this picturesque Scottish city "a kick up the backside"?
Perth Theatre is a little gem, though just at present it can be hard to realise the fact. It's undergoing a £16.6m refurbishment. Outside it's surrounded by diggers and men in hard hats. Inside, the Edwardian auditorium is filled with scaffolding and wood.
Built a century ago, the interior is being restored to something like its original state and the long-disused upper circle is being brought back into use. So too is the original glass-roofed foyer, reached via a narrow canopied entrance in Perth High Street. Meanwhile a wholly new glass-fronted foyer incorporating a studio theatre is being built alongside the brick original.
The theatre has a proud history. The first permanent repertory company in Scotland was founded there in 1935. Donald Sutherland was a member in the 1960-61 season. In the 1990s Ewan McGregor got his first break there.
The auditorium is surprisingly small. Gwilym Gibbons says it looks smaller because the seats have been taken out, but that even with them in he loves the intimacy of the space. Gibbons is the chief executive of Horsecross Arts, which runs the theatre and Perth's 10-year old concert hall a few yards down the street, and he showed me round the work in progress.
The two buildings are central parts of Perth's bid to be UK City of Culture in 2021. Perth is a small place, with a population of less than 50,000, but Gibbons tells me it's a hugely creative city. The bid, he says, is an exciting opportunity to galvanise the creative community, help define Perth's creative place in the world and "give it a kick up the backside".
This is a phrase I hear several times during my visit, from which I deduce that many of those who live here think Perth a charming place with tremendous artistic and cultural potential - but also a rather sleepy one, conservative and perhaps slightly complacent, with an older population and a rather traditional view of what constitutes culture.
The theatre is owned by Perth and Kinross council, and its refurbishment is part of an ambitious programme of spending which also includes work to improve the city's museum and art gallery and a long-term plan to bring back into use the imposing city hall, which has lain empty and unused since the 1990s.
The city hall has been earmarked as a suitable resting place for the historic Stone of Scone, on which kings of Scotland were traditionally crowned at Scone Abbey, whose ruins lie just outside Perth. The stone was spirited away to Westminster Abbey by the English king Edward I in 1296, and returned in 1996 by John Major to Edinburgh Castle, where it sits alongside the other royal regalia known as the Honours of Scotland. Now Perth wants it back - at the city hall the stone would serve as the centrepiece of an exhibition celebrating Perth's role as Scotland's one-time capital.
Perth and Kinross council leader Ian Miller, who heads a minority SNP administration, explains the council's strategy of using the City of Culture bid as a way of establishing Perth as a "must-see" destination for visitors, many of whom now bypass the place en route to the Scottish Highlands. There is a fine view of the distant mountains from Candy Craig Knowe, the high ridge just to the south of the city.
As Ian Miller admits, it doesn't really matter for Perth's tourism strategy whether it wins the bid or not. The council's £50m programme of investment in new attractions will continue regardless and will, he says, stand the city in good stead for the future. In much the same way, Perth's larger Tayside neighbour Dundee lost out to Hull in the contest to become 2017 City of Culture, but still went ahead with its planned Scottish branch of London's V&A museum, now due to open in 2018.
The bid is also a way to address the area's economic problems. At first sight, Perth looks prosperous enough, but Ian Miller says that's deceptive. Much like Hereford, another 2021 City of Culture bidder, Perth's economy relies on tourism and agriculture, both low-wage industries. A year as City of Culture might attract more visitors, major exhibitions, new investment, more hotels.
Also like Hereford, Perth's bid is one that involves not just the city itself but the whole of the Perth and Kinross council area, from Pitlochry in the Highlands down to Kinross in the south. That means drawing in communities of all sizes, and individual artists well beyond the city itself.
Twenty miles north east of Perth, near Glamis Castle, I meet artist Frances Law. She lives in an isolated cottage, her studio a shed in the garden with a view of cows grazing in the field next door. In a break from preparing an exhibition of her work at Duncan of Jordanstone College of Art and Design in Dundee she shows me her paintings - cream and grey swirls reminiscent of the whorls of seashells, and the found objects she collects and arranges. One such collection of old spoons and pots, bottles and clay pipes found by volunteers in the burn in the village of Coupar Angus forms the basis of her new exhibition.
Frances lived in Glasgow in 1990 when it was European Capital of Culture. History tells us that it was a turning point in the city's recovery from post-industrial decline. Frances vividly recalls the vibrancy of those times, the new restaurants and venues that opened up, the new possibilities. "The whole city came alive," she says. And she hopes that 2021 could do something similar for Perth.
Back in the city I drop in on Ad Lib Theatre Arts' rehearsals for the musical Rock of Ages, where I hear that "kick up the backside" phrase again. Ad Lib - slogan: "Arts for all" - is run by the energetic Victoria Rice and is one of several community theatre groups in the city, evidence of a thriving amateur performance scene.
Ad Lib's performers are predictably enthusiastic about the City of Culture bid. "There's loads of things that are happening in Perth that people just don't know about," one tells me. "It's about time Perth was recognised. There's lots of arty things going on in Perth and it would be lovely to have the recognition," says another.
But, I ask one man, is Perth's definition of "culture" a little old-fashioned, not cutting-edge enough? His reply is illuminating: "Culture can be so many things. So if you want to be edgy and grimy, there are cities that can do that. What we do well is the homely, the Scottish, countryside… All the things that you imagine when you think of Scotland are all done well here."
Someone else who thinks the place needs a kick up the backside is Frank Burger-Seed. He runs The Green Room, a venue that puts on live music six nights a week. It was a single downstairs bar when Frank took it over. It's now a two-storey complex with three bars, more than 100 different beers, 230 malts and 70 kinds of rum.
He says Perth is a vibrant place, with a thriving local music scene centred on the campus of what used to be Perth College, and is now part of the University of the Highlands and Islands. But its night-time economy is held back, according to Frank, by a restrictive behind-the-times approach to licensing on the part of the council.
"In my sector, the pub trade, we can't compete with Dundee or Edinburgh or Glasgow. We get a lot of tourists coming in and asking for a drink after we close at 11pm on a Monday or Tuesday. We say sorry, you can't get a drink anywhere in Perth, you have to go to Dundee which is a 15- or 20-minute taxi ride away. You can't get hot food anywhere in Perth after 1.30am, which is prehistoric."
Like Hereford, Perth lacks the occasional areas of dereliction and deprivation of post-industrial cities like Sunderland, Stoke and Paisley which are also bidding to be City of Culture. But the local council, whatever the supposed shortcomings of its late-night licensing policy, is far-sighted enough to see the bid's potential to help reposition Perth and wealthy enough to invest serious money.
And no other bidder can claim to be the Gateway to the Highlands, with some of Britain's finest mountain scenery just a few miles' drive away.
---
City of Culture contenders profiled in the Magazine
---
Follow @BBCNewsMagazine on Twitter and on Facebook