CBB's India Willoughby: I have nothing in common with drag queens.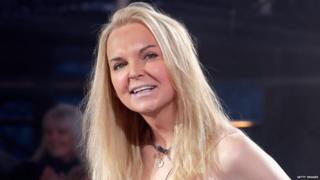 Celebrity Big Brother evictee India Willoughby says she still doesn't believe drag queens can help people understand transgender issues.
The transgender TV newsreader was evicted on Friday after several rows, including with those who'd used "he" instead of "she" when talking to her.
She appeared with drag act Courtney Act, who's also known as Shane Jenek.
"I would love someone to explain to me what I have in common with a drag act," she told Newsbeat.
Other's have praised Courtney Act for opening the conversation on gender and sexuality.
During her 10 days on the Channel 5 show, India told housemates she had a phobia of drag acts and was visibly upset when Apprentice star Andrew Brady experimented with drag.
"The important thing for me, and it's probably the reason some transgender people don't like me, is I don't necessarily have the same opinion as everyone else," she said.
"At the end of the day, why should any of us. If somebody has got blonde hair, doesn't mean that all people with blonde hair think the same."
"Different opinions are good and in my view there is a very, very important distinction between a drag act, or somebody who cross-dresses, and somebody who is actually going down the medical route to fully transition.
"There is a massive, massive difference."
Jenek has won praise from viewers for tackling LGBT issues with contestants such as former Conservative MP Ann Widdecombe, who had voted against gay marriage in Parliament - but Willoughby says she doesn't want him speaking on her behalf.
"Courtney is great. I have no problem whatsoever with Courtney/Shane - he's a great guy. We had some long chats, some of which were aired, and I don't have an issue with him.
"I don't have an issue with people who perform drag - they're not going on stage to deliberately make life difficult for trans women, but it is a side-effect."
Willoughby says she expects to return to reading the news on Channel 5 next month and is also planning a programme where she interviews drag queens. She also insists she has no regrets about the Big Brother experience.
"I loved the Big Brother family, I have no regrets whatsoever. If you're going to crash and burn, do it quickly and do it dramatically, but yeah, I am very happy with how things went."
Find us on Instagram at BBCNewsbeat and follow us on Snapchat, search for bbc_newsbeat