Nike London ad: Comedian makes parody set in Birmingham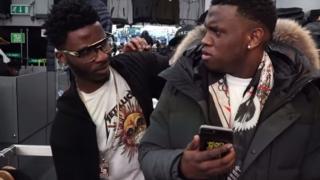 Anything London can do, Birmingham can do - and it appears for cheaper too.
After the success of Nike's Nothing Beats a Londoner ad, a comedian has made a parody version featuring artists and local talent from Birmingham.
David 'Sideman' Michealson told Newsbeat: "I'm trying to turn people's eyes and attention to the area. There's a lot of people here doing bits that might go unnoticed."
The ad features Brummie stars including Lady Leshurr, Mist and Lotto Boyzz.
Since the advert was released on Friday it's had thousands of views as well as being shared by Stormzy and Skepta.
More than seven million people have watched Nike's original advert, which featured the likes of Harry Kane, Mo Farah and Giggs.
The theme behind the sports giant's viral video is rising sport stars and the challenges they face training in the city.
Sideman, a key contributor on Radio 1 and 1Xtra shows, said: "I saw the Nike advert and of course had those natural thoughts as a Brummie where I was like 'ah man, imagine if we had our own version'.
"The very next day I started on a script. I knew I had to get it out quick before the buzz of the original died down."
Sideman admitted that landmarks in Birmingham might be less well-known than those in London, so he decided to focus on a topic most people can relate to - traffic.
Sideman joked: "There are certain roads where the traffic is crazy. If you've been to Birmingham and walked or drove down Dudley Road, you'd have known. The traffic is crazy.
"I also got the artists to talk about the places they are from as well.
"That way if you're a fan and listen to them you'd have heard about those places maybe in their songs, or read about them on their socials."
Sideman says the video took two days to shoot and edit although he said it took thousands of messages trying to arrange it all.
"It was difficult organising people but everyone who I asked to take part was on it from the get go. I went for people I knew before so I had numbers for all of them," he said.
Sideman says that a large amount of credit should go to BBC Radio 1 producer Alex Lawless.
The pair work together on The 8th with Charlie Sloth and he says it was Alex who gave the idea the green light.
As well as well known musicians from Birmingham, the parody ad also features local talent - including social media stars like bodybuilder Micquel Wright.
Sideman said that as a native of the city he hopes to shed some light on the people who are making moves there.
"Birmingham's on the rise, I feel like I am trying to direct people eyes to here and saying to them 'do some stuff with Birmingham people'.
"When you're doing stuff in Birmingham you hit a ceiling, and it's like to go further you've got to move to London. So this video was a chance for people in Brum, no matter how big or small, to share the same platform," Sideman said.
"London artists stick together and help each other, I am trying to be a pioneer for that movement in Birmingham."
Follow Newsbeat on Instagram, Facebook and Twitter.
Listen to Newsbeat live at 12:45 and 17:45 every weekday on BBC Radio 1 and 1Xtra - if you miss us you can listen back here.