Oscars 2018: Hollyoaks winners, Kobe Bryant and jet skis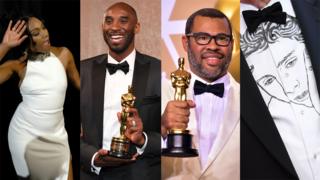 If you just looked at the top awards at The Oscars, you'd miss a lot of the fun.
The big winners were all fairly predictable with the early favourites taking home statues.
But there were still plenty of surprises - from a "win" for Hollyoaks and a former basketball star, to the $100,000 (£72,500) goody bag, to Helen Mirren giving a way a jet ski.
Here's some of the stuff you may have missed.
Yes, that is a picture of Kobe Bryant with an Oscar
That's right. The former basketball star turned his hand to filmmaking on a short animated film called Dear Basketball.
The five-minute film is based on a love letter to the sport he wrote in 2015.
He threw shade at a Fox News presenter in his speech, who said earlier this year basketball players should "shut up and dribble" instead of getting involved in politics.
But in the year of Time's Up, some people are questioning the win - in 2003 Bryant was accused of rape by a woman with whom he eventually reached an out-of-court settlement.
Mitzee from Hollyoaks also has an Oscar
The Oscar for best live action short film went to not one, but two former Hollyoaks stars.
Rachel Shenton, who played Mitzee Minniver, wrote The Silent Child, while its director was Chris Overton - who played cage fighter Liam McAllister back in 2010.
The real winner
Let's be honest, Oscars speeches can go on a bit. How do you encourage people to keep it short?
With Helen Mirren on a jet ski, of course.
Host Jimmy Kimmel promised a jet ski to the winner with the shortest speech - before unveiling Dame Helen modelling the prize.
Congrats to Mark Bridges, who won for best costume design for Phantom Thread, and whose 36-second speech won him the jet ski. Dame not included.
Value for money
As promised, actress and comedian Tiffany Haddish wore THAT dress again.
She's worn the white Alexander McQueen dress, which she once joked was worth "more than my mortgage", three times now.
Tiffany first wore it at the Girls Trip premiere, before wearing it again on Saturday Night Live last year, saying she'll wear it "multiple times" because it's so expensive.
On the red carpet, she wore a dress inspired by her Eritrean roots - and she also fangirled over Meryl Streep.
She continued the love-in on the Oscars stage, telling Meryl she wants her to "be my mama one day".
Ultimate fanboy
Timothee Chalamet has had a big year, starring in films such as Lady Bird and Call Me By Your Name.
The 22-year-old has gained a lot of fans along the way.
But no bigger than the writer of Call Me By Your Name, James Ivory, who literally wore a shirt with Timothee's face on it.
By the way, James Ivory winning for best adapted screenplay not only meant that the shirt made an appearance on stage - it also makes him the oldest ever Oscar winner at 89.
Anyone for a cuppa?
So nominees from the main categories get a goody bag worth $100,000 (£72,500) just for turning up at the ceremony.
Included is a 12-night trip to Tanzania, a week-long stay in Hawaii and a week-long spa pass - as well as some posh tea bags and oranges.
By the way, according to Forbes, companies have to pay at least $4,000 for the privilege of being included in the bag.
But spare a thought for the poor nominees this year, who miss out on 2016's haul, which was worth $200,000 and included sex toys and a portable vaporiser.
When your best mate wins
Get Out writer/director Jordan Peele won for best original screenplay.
And he was quite shocked.
It's fair to say his friend and frequent collaborator Keegan-Michael Key was pretty chuffed too.
Hollywood gets the munchies
Host Jimmy Kimmel wanted to thank cinema-goers for supporting movies.
Luckily for him, there's a cinema right next door to where the Oscars are hosted.
So the likes of Mark Hamill, Lupita Nyong'o, Margot Robbie and Gal Gadot crashed a screening of A Wrinkle in Time and handed out snacks.
Jimmy Kimmel wanted to let the audience know that there was a "strong smell of marijuana" in the cinema, suggesting these people needed the snacks more than most.
Keeping it humble
Was the stage a bit much?
Yes, it was made up of 45 million crystals and took 3,000 hours to build.
That's 125 straight days of work.
Follow Newsbeat on Instagram, Facebook and Twitter.
Listen to Newsbeat live at 12:45 and 17:45 every weekday on BBC Radio 1 and 1Xtra - if you miss us you can listen back here.