Europe joins up space and defence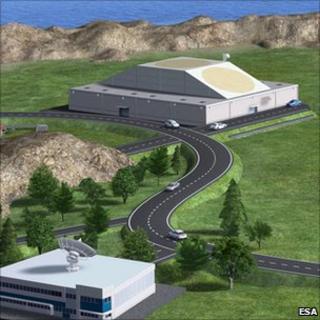 Two European organisations - one concerned with space, the other with defence - have signed an agreement on closer co-operation.
The European Space Agency (Esa) and the European Defence Agency (EDA) penned their accord at the Paris Air Show.
The pair hope closer ties can help them avoid duplication and reduce the cost of space activity where they have shared interests.
These areas include satellite remote-sensing and communications.
Although both organisations include many of the same states in their membership (EDA is part of the EU's Common Foreign and Security Policy), they are actually separate legal entities.
One obvious example of overlap concerns Esa's desire to develop a Space Situational Awareness (SSA) programme.
This will use radar and other technologies to track and catalogue the precise movements of all bodies moving in orbit - from spacecraft to asteroids.
It is a priority for Esa because it frequently has to shift its satellites to avoid a collision with a piece of debris, of which there are now thousands of items floating above Earth.
But European armed forces also have an intelligence interest in knowing what is moving overhead - for example, others' spy satellites - and they already deploy radar capability to ascertain such information.
"There is a need to define civilian requirements and that is clearly to be done by the European Space agency, but also to see what would be more security[-orientated] requirements, and particularly in the military field. That is something that requires co-operation between us," EDA chief executive Claude-France Arnould told BBC News.
The agreement signed at Le Bourget should make it easier to exchange technical and catalogue data.
She cited other areas where "synergies" existed - such as the safe introduction into civilian airspace of unmanned aerial vehicles using satellite communications; and in the development of space technologies that gave Europe industrial independence.
Cooperation in the defence sphere is a delicate issue for the European Space Agency.
Its convention states that it must only engage in activities that have "exclusively peaceful purposes". A country like Switzerland, which maintains absolute neutrality, would not be part of Esa if this declaration were broken.
"Obviously, I could not sign this agreement if it was not consistent with the convention of Esa," said the space agency's director general, Jean-Jacques Dordain.
"I invite you to read the Esa convention; you will not find the adjective 'civilian'. Nowhere is it written 'civilian' - just 'for peaceful purposes'.
"So as long as we are working for peaceful purposes - and Madame Arnould has mentioned a list of topics that are only for peaceful purposes - then I think that we are entitled to work on all these aspects."
Mr Dordain said there were checks in place to ensure technologies developed within the agency were not simply passed over to be used in weaponry.