Russia grounds rockets after loss of space freighter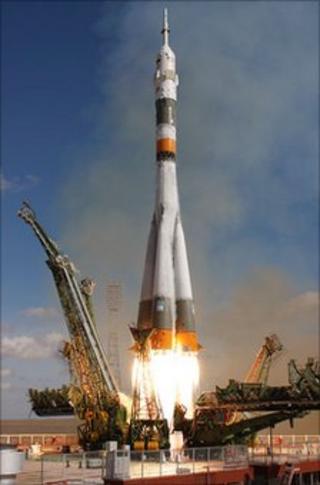 Russia has grounded its fleet of Soyuz rockets after an unmanned spacecraft carrying cargo for the space station crashed shortly following launch.
Investigators want to determine the cause of the accident before moving ahead with any further flights.
The halt could delay a manned launch from Kazakhstan currently scheduled for September.
Emergency workers are using helicopters to search for wreckage of the Progress supply craft in Siberia.
"A decision has been taken to halt the launch of Soyuz carrier rockets until the reasons for the accident become clear," the AFP news agency reported an unnamed Russian official as saying.
On Wednesday, the Russian federal space agency (Roscosmos) said the Progress M-12M cargo ship was not placed in the correct orbit by its rocket and fell back to Earth.
The first and second stages (sections) of the Soyuz-FG space rocket used for manned launches differ from those of the Soyuz-U which carries the Progress freighter, but the third stage is identical in both rockets.
The next manned flight to the International Space Station (ISS) - currently staffed by a six-person multinational crew - is scheduled for 22 September and a cargo vessel with new supplies is due to fly to the space station on 28 October.
In a statement on Thursday, Roscosmos said it was in contact with Nasa about "resolving questions" related to support for the ISS as well as future manned and cargo launches.
It also announced a full review of its rockets and the creation of a working group that would "control the execution of the manned space flight programme."
The loss of the Progress freighter comes at a particularly embarrassing time for Russia in the year it celebrates the 50th anniversary of Yuri Gagarin's first manned space flight and as it becomes the sole nation capable of delivering humans to the ISS.
But it is just the latest in a spate of mishaps to hit the Russian space programme. In December last year, three satellites crucial for providing Russia with global sat-nav coverage failed shortly after launch. The head of Roscosmos, Anatoly Perminov, was replaced in the wake of the accident.
This month, a telecommunications satellite was placed in the wrong orbit by its Russian Proton launcher. A fault with the booster was blamed.