USAF sensor hitches ride to space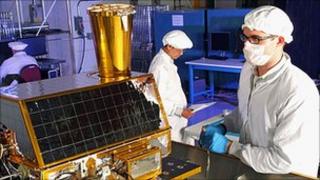 Europe's Ariane 5 rocket has put two large commercial telecommunications satellites in orbit.
The vehicle lifted off from French Guiana at 2138 GMT, ejecting the second of its "passengers" 35 minutes later.
Of key significance in an otherwise routine mission was the carriage to orbit on one of the satellites of a US Air Force missile tracking sensor.
The hosting of military and other government payloads on commercial platforms is set to become commonplace.
This piggybacking approach is seen as a fast and cost-effective way to get new capabilities into orbit without the need to develop a whole spacecraft.
The Commercially Hosted Infrared Payload (Chirp) represents the USAF's first such venture.
Chirp has been attached to the SES-2 satellite, which has a primary mission of transmitting TV channels across North America and the Caribbean.
The sensor will demonstrate a new wide-field telescope to detect missiles in the early stage of flight - the so-called boost phase.
It was the fifth flight of the year for an Ariane 5 rocket and the 60th in its 15-year history.
The second satellite launched on Wednesday's mission was Arabsat-5C, which will deliver telecommunications services to the Middle East and African regions.