Trials to reduce fish discards could be expanded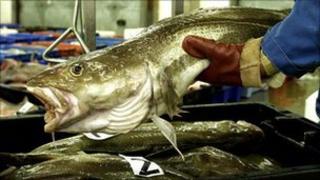 Trials to reduce discards from fishing vessels could be expanded as the government says initial results show they are working.
Boats in the trials with CCTV cameras have to keep all the fish they catch but are rewarded with extra quota.
Findings from 15 boats in England have seen discards of less than 1%. There are also similar trials in Scotland.
The industry says the trials should be seen as one possible solution but not used to justify a total ban.
Under the current rules limits apply to what boats land at the quay side, not to what they actually catch.
That means that if vessels reach their quota for a particular species or catch fish that are smaller than the legal limit they are discarded.
The latest trials to test a new approach began in April, building on previous work, with the fifteen vessels in England which have been taking part catching either cod or sole.
Under the "catch quota" trials boats have to keep and land all the fish of certain species, whatever size. The incentive is that they get a higher quota, but when they reach that limit they have to stop fishing altogether.
'Pleased'
The trials have been run by the Marine Management Organisation (MMO), on behalf of the Department for Environment, Food and Rural Affairs (DEFRA).
Julian Roberts, from the MMO, said the initial findings had been positive.
"We're very pleased with the results. The industry have engaged with this and they've demonstrated that they can fish without discarding any fish.
"They have demonstrated that the gear they are using can be selective and also they have caught very small quantities of undersized fish as well, so really everything they have landed has been a marketable catch," he said.
The footage from the CCTV cameras, fitted on the boats, is stored on data recorders which are later analysed on shore.
Andrew Pillar, from Interfish in Plymouth, has one of his vessels taking part in the trials.
"People's perception of discards is obviously very poor and the situation with the fishing industry is we want to move away from discarding fish that can provide a good meal and provide an economic return for the fishing industry," he said.
Sufficient incentives?
But while he is positive about results so far, like others in the industry he remains cautious.
"This project is some way towards a tool for helping to improve fisheries management but it is by no means a panacea across every fishery," he said.
While the trials have seen discards of less than 1%, there are still technical issues to improve on. For example the accuracy of catch estimates by the vessels and by on shore observers is variable.
The interim report also says that there is a need to understand more about how the system would work in a mixed fishery.
While many in the industry welcome the trials as one of a number of potential ways of reducing discards, some have reservations about how widely the system might be applied and how quickly.
They also warn it should not be used to justify a total ban on discards.
The National Federation of Fishermen's Organisations (NFFO) argues that a wider catch quota system will only work if it is voluntary, if there are sufficient incentives and if each fishery is looked at on a case by case basis.
Fisheries Minister, Richard Benyon, said the findings will be used in negotiations over reforms to the Common Fisheries Policy (CFP).
He said: "The UK government is clear that the Common Fisheries Policy is broken and needs drastic reform.
"We came forward with a practical solution of counting what they catch not what they land. And now we've shown that it works," he said.
There are plans to expand the trials to include more vessels and more stocks. To do that the UK will have to get extra quota in annual negotiations which take place next month.