Meteor sky show set to reach peak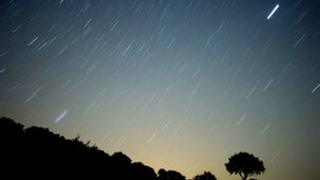 The annual Leonids meteor shower is set to reach its peak on Thursday, astronomers say.
The shower is caused by the Earth moving through a shower of debris from the comet Tempel-Tuttle.
In most years, the shower produces some 10-15 meteors per hour.
As is usual, city lights or moonlight could obscure the view for observers.
Although normally a quiet meteor shower, every 33-34 years the Leonids put on a major display, known as a meteor storm.
The last time this happened was 1999, when more than 1,000 meteors per hour were could be seen.
However, many stargazers will still be out this evening to watch, in case they have a stroke of luck.
The "radiant" - the apparent origin in the sky - of the meteors lies in the constellation Leo, and it is from here that the Leonids take their name.