UK 'complacent' on nuclear future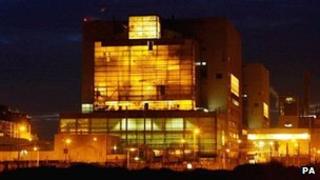 The UK government's lack of strategy on nuclear research threatens long-term electricity plans, says the House of Lords Science and Technology Committee.
The "complacent" UK invests far less in research than other nations, creating a skills gap and making the country a "niche player", its report concludes.
The committee says the current reactor programme is unlikely to be affected.
The government said nuclear energy would continue to be vital to UK energy security and reducing emissions.
On extending nuclear plans to meet 2050 climate targets, chairman of the committee, Lord Krebs, said "there isn't a credible Plan A".
"It is though we're setting off on a long journey without a map, without a driver, and without anyone to fix the car if things go wrong," he told reporters at a briefing in London.
"We are in danger of placing ourselves in a position where we will be unable to ensure a safe and secure supply of nuclear energy up to 2050.
"Without action now, in our view, the government's nuclear energy policy simply lacks credibility."
As a matter of urgency, the committee urges the development of a research and development strategy looking beyond 2025, and the establishment of a board drawn from academia, industry and government agencies to implement that strategy.
Part of the strategy should be to re-activate membership of the Generation Four International Forum, the body that is co-ordinating research on the next generation of reactors intended to be safer and more efficient than current designs.
Training gap
Companies such as EDF and E.on are working on plans to build about 10 new reactors with a collective capacity of 16GW by 2025.
But projections by the government and some independent agencies suggest that in order to meet longer-term climate targets cost-effectively, this will need to be doubled or tripled by 2050.
The UK is committed to cutting greenhouse gas emissions by 80% from 1990 levels by mid-century.
The committee says there is a serious danger of UK expertise being lost by this period, with the skilled workforce ageing and a lack of investment in training new people.
Lord Krebs suggested that the government, regulatory agencies and industry would find it hard to recruit trained and skilled Britons.
And relying on other countries to provide a talent pool was not a sensible strategy, he said, when there was likely to be international competition to secure skilled personnel.
"Even if government policy is what I refer to as the 'Argos catalogue' policy of buying it off the the shelf from EDF or German suppliers, it's not the case that you can buy something off the shelf without having the capacity to understand what it is you're buying and what the safety and legacy issues are," he said.
"Because of the ageing profile of the workforce in nuclear research and development, that capacity will decline unless there is a step change in investment and will."
Figures obtained by the committee suggest that UK spending on fission research is dwarfed not only by established nuclear powers such as Japan, South Korea and France, but also by countries such as Australia and Italy that do not have active nuclear power programmes.
In the financial year 2010-11, the UK research councils spent £149m on energy research, with just 4% of that - £6.5m - going on fission.
That is far less than the spend on nuclear fusion research, and a tiny fraction of the annual £2.8bn pricetag for cleaning up Sellafield and other sites with a hefty nuclear legacy.
'Vital' technology
A government spokesman said that nuclear energy "is, and will continue to be, vital to UK energy security and reducing emissions, as well as supporting thousands of jobs".‬‪
"That's why we're investing £540m in energy research through the research councils, which includes money for research and training related to nuclear fission," he said.
The £540m figure covers financial years 2011-12 to 2014-15, the current spending review period.
Professor Robin Grimes, director of the Imperial Centre for Nuclear Engineering at Imperial College London and a special adviser to the committee, said that investing in research could provide returns later on.
"Building reactors is an international process now - the days when one company built the station and handed over the keys have ended," he said.
"There is a British company manufacturing pumps for pressurised water reactors, Rolls-Royce is investing in heat exchangers; so we do have companies with intellectual property rights appropriate for this sector, and in the long term [investment] will generate jobs for the UK."
Follow Richard on Twitter