Stripes research wins BBC award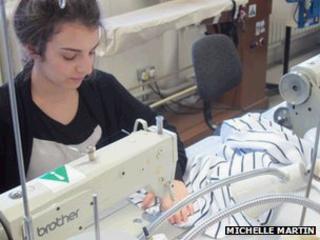 A study to investigate the effects of wearing horizontal vs vertical stripes has won the BBC's Amateur Scientist of the Year award.
The research by 53-year-old Val Watham shows that vertical stripes do indeed make people appear taller while horizontal hoops make you look wider.
Her work challenges previous conclusions by her scientific mentor.
An award ceremony for Ms Watham was held at this year's Cheltenham Science Festival.
The winner, from Berkshire, presented her results to the festival audience and a judging panel.
"It was the full package," said panel member Dr Lucie Green from University College London (UCL).
"A lovely idea which was well executed, had clear results and leads on to further research. You can't ask more from a science experiment."
So You Want To Be A Scientist? was run as part of BBC Radio 4's weekly science programme Material World last year.
The purpose of the award is to give amateurs the opportunity to go through the process of "being a scientist" by producing experiments under the guidance of a professional scientist mentor.
From over 1,000 entries, the judges chose Ms Watham's entry as one of four finalists.
The mentors helped them turn their original questions into testable experiments.
Since January, Ms Watham has been working with psychologist Dr Peter Thompson from the University of York.
His previous research had shown that horizontal stripes make you look taller and thinner, due to a visual effect called the Helmholtz illusion.
When she saw these findings reported in the press, Ms Watham was sceptical.
She felt the line drawings he used in his experiment weren't realistic. So she applied to repeat his experiment using real people wearing real clothes.
First year fashion students at the University of the Creative Arts designed and produced 15 outfits. They were then filmed modelling the clothes in a catwalk shoot.
Five hundred visitors to the Edinburgh Science Festival watched these videos, and rated how tall and wide each model looked in different outfits.
The results were surprising, given Dr Thompson's previous research.
The other three finalists for the title were:
Izzy Tomlinson, an 18-year-old student from Shropshire who ran an experiment to discover which people are more sensitive to horrible noises
Dara Djavan Khoshdel a 24-year-old student from Bournemouth who wanted to find out if the financial value of a painting could be determined by measuring people's emotional response to it.
William Rudling, a 69-year-old illustrator from Leeds who developed an online test to discover if people who look alike sound alike
The award ceremony will be broadcast on Material World on BBC Radio 4 at 1630BST on Thursday 21 June