Fish welfare to get hi-tech boost with automatic alerts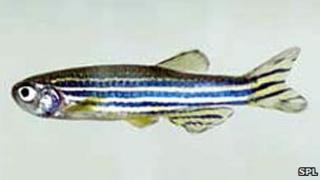 Scientists are looking to develop a system that can identify when fish used in laboratories are under stress.
The project plans to adapt technology designed to provide an automated alert system for sheltered accommodation residents who need urgent help.
The number of fish used in procedures is rising, with half a million being used in procedures during 2011.
The research is being carried out by scientists from the universities of Liverpool and Chester.
"It is an adaptation of a capability that had already been created by engineering colleagues at Liverpool," explained Andrew Cossins, head of the university's Institute of Integrative Biology.
"It was set up some years ago, and... it could be used to monitor, in an unattended way, the behaviour of people in a residential home."
Fish welfare
The technology, known as the Merton Intelligent Monitoring System, used a video camera to monitor and record where people moved, and build up a picture of "normal" behaviour patterns.
If someone displayed behaviour deemed to be outside the norm, for example if they fell over, the system's software would recognise this and automatically trigger an alarm to summon help.
"That data can be processed to extract information that allows you to differentiate behaviours," Prof Cossins told BBC News.
"This is what we are seeking to adapt for use in a zebrafish aquarium."
He explained that zebrafish, along with mice, have become "one of the dominant models for biomedical investigations worldwide".
Zebrafish are particularly valuable in research terms because they can be genetically manipulated to mimic or "model" many diseases.
"More recently, people are starting to use the fish in drug-testing programmes," Prof Cossins observed.
"While they are eggs and developing embryos, you can [employ] drug screening programmes... and you can look to see, for example, if you are disturbing development."
The project's lead scientist, Dr Lynne Sneddon from the University of Chester, said the system would represent a "major leap forward in fish welfare".
"This development of non-invasive behavioural and physiological measurements will allow researchers and animal carers to accurately diagnose whether a fish is in pain or distressed, and intervene accordingly," she said.
Prof Cossins added that the system would be able to help those such as lab technicians who were not animal behaviour specialists to identify whether a fish was behaving oddly or not.
"Using this novel monitoring system, we shall understand whether changing the environment and handling of zebrafish alters their activity, such as swimming, feeding, posture, face shape and social interactions.
He added: "We will test the theory that an enriched environment better equips fish to respond positively to stressful situations.
"Ultimately, this work could help the scientific community refine and reduce experiments on millions of fish worldwide."
However, he acknowledged that the team still had "a lot of behavioural work to do".
The three-year project received £440,000 funding from the National Centre for the Replacement, Refinement and Reduction of Animals in Research (NC3Rs), which was established in 2004 by the government in an effort to evaluate the use of animals in procedures licensed under the UK's Animals (Scientific Procedures) Act.