EU budget deal for farmers raises wildlife concerns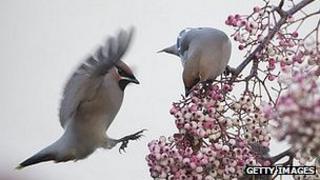 The European Commission is fighting a rearguard action to force farmers to work in a way that benefits the environment.
The Commission, which drafts EU laws, proposed that farmers should have to "earn" a third of their subsidies by protecting wildlife better.
The scheme was weakened as part of last week's grand bargain between EU leaders at their budget summit in Brussels.
It has also been under attack in the European Parliament.
A senior source in the Commission told BBC News: "All the measures we proposed to make the Common Agricultural Policy [CAP] greener are being diluted.
"We have to resist this on behalf of the public. Many people don't understand why farmers are getting aid when other parts of society don't," said the official, who requested anonymity.
"In an ideal world we wouldn't be paying farmers any aid, unless they were earning it by providing public goods like helping birds and bees that people value."
The source said the EU's political leaders had weakened the language on greening the CAP in a way that would enable farmers to collect subsidies for owning land in the same old way.
He also criticised MEPs for raising the prospect that farmers could go unpunished for breaking existing EU rules, and for proposing that farmers should be allowed to get double subsidies for helping the environment.
"The public really won't understand why MEPs think farmers can get away with breaking the law. And the proposal for double payments is ridiculous - it makes us look ridiculous. It has to be stopped."
Worries about wildlife
The decisions by MEPs and the Council (EU governments) to create more flexibility for farm subsidies were welcomed by some farming groups, but widely criticised by environmentalists.
Ariel Brunner from BirdLife Europe said: "Europe is offered a budget that scales back investment in the environment and caters for the usual fat cats that have been milking the system until now."
Martin Harper from the Royal Society for the Protection of Birds (RSPB) said the leaders' deal reduced proposed conservation spending by 11bn euros (£9.5bn; $15bn). "Wildlife across Europe will pay a heavy price for this terribly regressive deal. Since the 1980s Europe has lost 300 million farmland birds. How many more will we lose over the next seven years?"
The RSPB called on the UK government to interpret the rules in a way that benefited wildlife more.
There was some good news for environmentalists from the EU heads of government.
Climate Commissioner Connie Hedegaard welcomed a proposal that 20% of all EU spending would have to have a beneficial effect on the climate. She said this was "a major step forward".
Critics said the rules were so vague that all sorts of activities would simply be redefined as climate change spending. The row will resurface when the issue is considered in the European Parliament.
Follow Roger on Twitter