Stink bug pest 'could get to UK'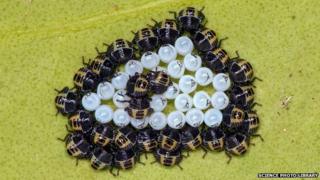 An agricultural pest dubbed the stink bug could establish itself within the UK, according to a scientist.
Entomologist Max Barclay said it was "it is only a matter of time" before the brown marmorated stink bug arrives in the country.
Two of the insects have already been found on imported timber headed for Britain.
The bug, which is native to the Far East, has already reached France and Germany.
Mr Barclay, from London's Natural History Museum, told the Daily Mail newspaper: "'I think the brown marmorated stink bug will establish a population here. It is only a matter of time.
"It will make its presence felt fairly quickly because it comes into people's homes in the autumn and winter."
Its name comes from the putrid stench it releases from its glands when threatened.
The insect was first found in the US in the late 1990s, but has now spread across much of the country. Since then, it has become a severe pest of fruits, vegetables and ornamental plants.
In recent years, corn and soybean growers have also experienced losses due to the bug.
Chris Malumphy, senior entomologist at the UK government's Food and Environment Research Agency (Fera) told the magazine Horticulture Week: "We have done a risk assessment. There is evidence the bug would be able to establish in the south of England.
"In North America, it reaches plague proportions and there are records of hundreds or even a thousand in people's houses.
"I don't expect plague proportions here but they make an evil, repellent odour to ward off predators, so a large number of bugs coming into your house is a rather compelling public nuisance."