Scotland
Top Stories
Campaigning continues in Scotland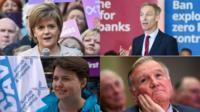 Scotland's political parties continue to put their key messages to voters ahead of the general election.
Features & Analysis
Pedal power
Is Scotland on road to becoming cycle-friendly country?
Ask Nicola Sturgeon
Be in the audience for our Ask Nicola Sturgeon programme - a chance to put your question to the SNP leader.
Poll position
John Curtice on why Scottish polls suggest a potential 'revolution' at Westminster
Who to trust at Alliance Trust?
This year's battle over the Dundee asset manager looks like a classic confrontation between the investment long term and short term hedge fund profit.
25 April 2015
Douglas Fraser
Business/economy editor, Scotland
English votes for English laws 'fully revived'
A previous Conservative leader once told me a story. The narrative concerned the stump speech which said leader was deploying at the time. This was, I emphasise, a wee while back.
24 April 2015
Brian Taylor
Political editor, Scotland