Scotland
Top Stories
Funeral for murdered student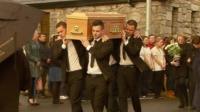 A funeral for Irish student Karen Buckley, who was murdered in Glasgow earlier this month, takes place in County Cork.
28 April 2015

From the section

Europe
Live
Scotland Live
All the latest news, sport, weather and travel from across Scotland on Tuesday 28th April 2015.
Features & Analysis
Quiz time
How much do you really know about modern Scotland?
Ask Nicola Sturgeon
Be in the audience for our Ask Nicola Sturgeon programme - a chance to put your question to the SNP leader.
Sports reporters sought
Former BBC Kick Off trainee Claire Taylor describes what it's like to find yourself working at the BBC as a sports reporter.
More than merely paper losses
Paper-making was an early feature of the industrial revolution in Scotland. This century has seen closures, now including Tullis Russell in Fife, as market changes and global competition bear down.
28 April 2015
Douglas Fraser
Business/economy editor, Scotland
Brian Taylor
Political editor, Scotland