South Scotland
Top Stories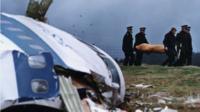 Relatives of Lockerbie bombing victims will not be allowed to pursue an appeal on behalf of the only man convicted of the crime, a court rules.
More top stories
A Met Office warning of the possibility of thunderstorms, torrential downpours and hail stones is issued covering parts of southern Scotland.
A Dumfries and Galloway pensioner claims Police Scotland refused to accept her complaint about their centralised control room.
Firefighters battle for about three hours to bring a blaze under control at a property in the village of Springholm.
An appeal is lodged over plans for a wind farm in the hills between Lauder and Stow which was unanimously rejected by councillors.
An action plan to improve cleanliness and hygiene techniques is put in place at operating theatres at Borders General Hospital.
A dramatic thunder and lightning storm lit up many parts of Scotland overnight into Thursday.
New research suggests that developers sometimes under-assess the impact of wind farm noise and appearance on residents.
NHS 24's chief executive John Turner is to step down and leave the organisation at the end of this month.
Latest stories
Dundee and Queen of the South agree a compensation package for left-back Kevin Holt's switch to Dens Park.
Queen of the South confirm the signings of Kyle Jacobs and Dale Hilson ahead of the new season.