South Scotland
Top Stories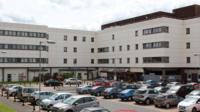 A 15-year-old boy is in hospital with serious injuries after falling from a bridge over a busy road in Dumfries.
More top stories
A preferred bidder is selected to take forward a potential £50m investment plan for Stranraer waterfront.
A sheriff outlines four "reasonable precautions" which might have avoided a Dumfries woman's fatal bicycle fall while delivering phone directories.
Police identify a Glasgow woman who died in a crash on a slip road from the A74(M) motorway near Gretna services.
The Queen is to officially open the new rail line between the Scottish Borders and Edinburgh next month.
Police try to trace the drivers involved after video footage appears of lorries occupying all three lanes on a stretch of the A75 near Glenluce.
A man is arrested after an incident in Dumfries town centre at the weekend which left a 44-year-old in hospital with serious injuries.
Anglers have been urged to dispose of their equipment responsibly after a young swan became trapped in fishing wire and died.
Rail travel between Glasgow and Dumfries could be disrupted for two weeks after a crash between two trains during engineering work at the weekend.
Councillors in the Scottish Borders agree to object to a plan for a wind farm near Tweedsmuir which has been reduced to 14 turbines.
Latest stories
Stranraer will travel to Easter Road to play Hibernian in the second round of the Scottish League Cup.
Derek Lyle gives Queen of the South an extra-time League Cup winner as local rivals Annan are reduced to nine men.