South Scotland
Top Stories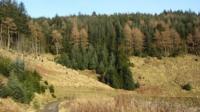 Borders councillors are asked to take a development masterplan for one of the region's key visitor attractions out to consultation.
More top stories
Dumfries and Galloway MP Richard Arkless claims David Mundell may have broken House of Commons rules by opening a foodbank in his constituency.
Five scouts, all aged 13, are found safe and well after an overnight search in a forest in south-west Scotland.
Tourism Minister Fergus Ewing says he expects strong and sustained interest in the new Borders Railway and does not rule out extending the line.
A request to reveal the impact of persistent problems at a Dumfries leisure complex on membership levels is refused.
Construction work begins on a 96-turbine wind farm straddling the border of South Ayrshire and Dumfries and Galloway.
Scotland's most southerly distillery at Bladnoch is to reopen and restart whisky production after being bought by an Australian entrepreneur.
A man from the Scottish Borders goes on trial accused of raping a sleeping woman in her home.
Police investigate a spate of thefts on the Wickerman Festival site which were carried out while tent owners were sleeping.
A Scottish health board is criticised for the "inadequate level of care and treatment" of a patient suffering from Alzheimer's disease.
A 72-year-old woman is cut free from a car after it crashes into the side of a house in a Dumfries and Galloway town.
Latest stories
Borderer Chris O'Hare is among seven Scots in Team GB for next month's World Athletics Championships in Beijing.
Tour de France yellow jersey winners Team Sky will take part in the 2015 Tour of Britain, which run through the Borders.