Facebook founder: 'The man from the future'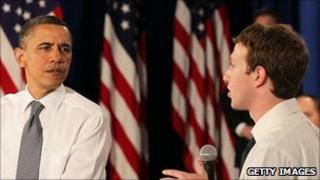 In Paris for the next couple of days, the world's most powerful leaders meet for a summit. No, not the G8 - Obama, Sarkozy, Cameron et al meet in Deauville later.
I'm talking about the e-G8, which has assembled a stellar cast list to discuss how the internet can contribute to economic growth.
Along with the likes of Google's Eric Schmidt and News Corp's Rupert Murdoch will be the man who's arguably more powerful than any of them, Facebook's founder Mark Zuckerberg.
Just seven years ago he was a geeky student at Harvard with a vision of a new way of connecting people on the internet.
Now he has the ear of prime ministers and presidents, who understand and perhaps fear the power of the social network where more than 600 million share their lives.
So what made Facebook what it is today - and was its rise inevitable? How did Mark Zuckerberg - described by a colleague as "the man from the future" - steer the company through repeated crises?
To find out, tune in to Radio 4 at 1600 this afternoon for episode two of The Secret History of Social Networking. Or catch the whole series via the podcasts.