French media tweet and poke ban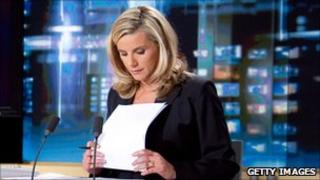 French TV and radio presenters have been banned from mentioning social networking sites such as Facebook and Twitter on air.
The country's broadcasting watchdog has ruled that doing so would break guidelines on advertising.
Stations can still talk about services without naming them, it said.
The French government is seen by many internet watchers as overly keen to regulate in relation to new media and the web.
In a ruling, published online, the Conseil Superieur de l'Audiovisuel (CSA), said: "Referring viewers or listeners to the page of the social network without mentioning it has the character of information.
"Whereas the referral by naming the social network in question has the character of advertising, contrary to the provisions of Article 9 of the decree of 27 March 1992 forbidding covert advertising."
Many French broadcasters - as in other countries - make extensive use of social networking sites, particularly Facebook and Twitter to interact with their viewers.
It is unclear how they would be able to direct people to such sites without identifying them.
Freedom of choice
The regulation effectively prevents market leading sites from gaining additional promotion by virtue of their size.
However, smaller, local competitors have mixed feelings about the clampdown.
"It is about finding a balance between freedom and fairness," said Emmanuel Cassimatis, founder of French site Goodwizz.com.
"Each company should have the right to say which communication channel they want to use.
"But 10 or 20 years down the line, we may have a string of lobbies created through those three or four channels that prevent small companies like ours from emerging. This move prevents that."
The French government has been criticised in the past, with claims that its apparent reliance on regulation is stifling innovation.
President Nicolas Sarkozy passed a three-strikes-and-out rule for online copyright infringers, in apparent defiance of EU guidelines on free access to the internet.
However, speaking at last month's E-G8 summit, the President defended his position.
He said there was a need to safeguard the rights of traditional creative industries in the rush promote online innovation.