Apple goes download only for Lion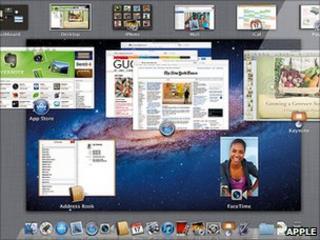 Apple has launched the latest version of its Mac operating system - OS X Lion - through its online app store.
It is the first time that the company has not issued new system software on disk.
Users without an internet connection, or whose link is too slow, will be given the option to download the file in an Apple store later this month.
For customers who want a physical copy, Apple is offering a memory stick version for an extra £25.
Editor-in-chief of Mac Format Magazine Graham Barlow said that many users viewed their OS disks as a "security blanket" in case something goes wrong with their machine.
"I for one will be looking at ways I can make an actual physical disk out of the download, if that is legally supported by Apple," he said.
Mr Barlow also warned that the 4GB file may lead some users to exceed their download limit if their home broadband has a low cap.
iPad-esque
Apple is touting OS X Lion as a major redesign which takes many of its cues from the iOS operating system that runs on iPhones and iPads.
It adds additional multitouch gestures, full screen applications and an iPad-style launch screen.
Like the touchscreen devices, Lion features an auto resume feature where programmes are restored to the state they were left the last time they were used.
"For people that are using lots of creative apps all day with lots of documents open in them, that is going to make a big difference," said Adam Banks, editor-in-chief at Mac User magazine.
Mr Banks said that Lion contained a number of design themes that would help extend the appeal of Apple's laptops and desktops in the face of competition from its own handheld products.
"Some people predicted that by this point there wouldn't even be a Mac any more because Apple is getting all these millions and millions of users on its iOS devices, why do they need the relatively small number of people using Macs.
"Is Apple still about that creative, professional market? I think there are features here that make clear it is," said Mr Banks.
Mac OS X Lion costs £20.99 from the Mac App store.