Onlive 'cloud console' to get UK launch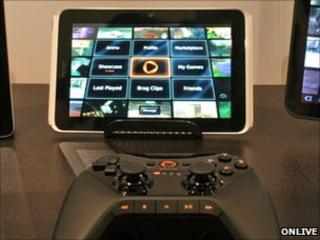 Onlive is to launch its cloud-based gaming service in the UK on 22 September.
The system, which has been available in the United States for more than a year, allows users to play games without a console.
Processing is done in data centres on specialised servers and streamed over the internet.
The company says it hopes to do deals with service providers to stop people exceeding their download limits.
As well as being available on PCs, Macs and tablet devices, Onlive offers its own micro console that can be plugged directly into HD televisions.
"There are some sacrifices," said Scott Lowe, executive editor at games website IGN.
"You lose a little bit of the clarity and the graphics don't stack up as well as something like a PC or a console, but you do get most of the major gist of the experience."
Mr Lowe said that Onlive had a number of advantages over a traditional games console, including the fact that users did not need to install software or wait for updates to download.
He also praised its responsiveness. Playing fast moving games over an internet connection poses a number of technical challenges, including latency - the time the remote system takes to execute a command.
"They have put a lot of effort into making all the hardware really low latency and through all of our testing, they do deliver," said Mr Lowe.
In an attempt to keep latency down, Onlive has opened a new European server facility in Luxembourg, placing its computing systems closer to the people that are going to be using it.
Data hungry
One concern with a service that relies on constantly streaming video - albeit compressed - over the internet is that users with monthly download limits may quickly exceed those.
Onlive's lowest connection speed of 1Mb/s would consume around 450MB per hour. Some broadband packages cap usage at relatively low limits such as five or 10 GB per month.
The company has suggested it may do tie-up deals with some internet service providers so that users do not get penalised for using Onlive.
The system also reduces some of the need for multi-gigabyte downloading associated with consoles, according to Onlive founder Steve Perlman
"People use Onlive differently than they would use XBox Live or PlayStation," he told BBC News.
"There's quite a lot of overtime [on a console] you wait for the disk to install or the download then there might be an update to download.
"With Onlive, everything is instant, you just click a button an play the game."
Mr Perlman said, as a result, that gamers tended to spend the same amount of time playing as console owners, but less time online overall.
UK pricing information for Onlive is not yet available.