Yahoo: Making news at last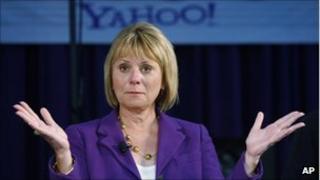 On Monday a nice PR person from Yahoo in London rang me to offer a meeting next week with a visiting executive over from California - a man who, he promised, was an inspirational speaker and thinker.
As tactfully as I could, I broke it to him that I could not see much of a story in Yahoo - it just wasn't a news-making business any more.
I could not see viewers, listeners or readers being too interested in its activities.
Well, how wrong can you be? This morning the technology world's news agenda is dominated by Yahoo - but for all the wrong reasons. Its chief executive Carol Bartz has been fired in the most dramatic fashion.
According to the tech blog Mashable, the CEO told her staff in an email sent from her iPad: "I am very sad to tell you that I've just been fired over the phone by Yahoo's Chairman of the Board."
So why has she gone?
At first sight, it seems bizarre that one of the most prominent women in corporate America has been axed after just two and a half years in the job.
For the official version you have to head to Yahoo's press statement which will leave you little the wiser.
Roy Bostock, chairman of the Yahoo Board and the man who made the phonecall tells us: "The Board sees enormous growth opportunities on which Yahoo! can capitalize, and our primary objective is to leverage the company's leadership and current business assets and platforms to execute against these opportunities." Err, right.
Then take a look at Yahoo's recent earnings reports, and you might still struggle to see a reason for chucking her overboard.
True, revenues have been sagging, but the cost-cutting programme launched by Carol Bartz has paid off in terms of profits.
No wallflower
Yahoo is still a huge player in the online advertising market, earning billions from a sprawling range of web properties.
In Carol Bartz, brought in from outside to refocus the business after the decision to reject a takeover by Microsoft, Yahoo certainly did not choose a shrinking violet.  
In its statement announcing her appointment the board said her "energetic and decisive leadership style" was what Yahoo needed to get back on track.
That frank style can be seen in a video - easily found via a Yahoo search - where Bartz uses fruity language in an exchange with another colourful Silicon Valley character, Techcrunch's Mike Arrington.
Then use Yahoo's Finance site to look back at the share price performance over the past two and a half years and you can see why the chairman made that call.
Remember, Microsoft offered $33 a share back in 2008 - but the share price has never climbed above $20 under Ms Bartz's tenure, and in early August was heading perilously close to the $10 level.
What has happened over the past couple of years has been a process of managed decline, rather than spectacular collapse.
There are still hundreds of millions using Yahoo mail, or sharing photos via Flickr - or checking share performance via Yahoo Finance.
But nothing has happened to the company that might scare Google in the search field, or give Facebook executives sleepless nights about a new social media rival.  
Indeed there has been nothing that might make a technology correspondent think it was worth telling the world about.
Now the search is on for a new CEO who can, in the words of the board, "return the company to a path of robust growth and industry-leading innovation".
You may have noticed that, throughout this post, I've been using Yahoo products but here's the telling thing - it is the first time for some years that I've deliberately sought to "Yahoo".
Unless a new leader can get many more of us to start talking about and using Yahoo's services, then the long process of gentle anonymous decline looks set to continue.