Patents: Can the giants protect the minnows?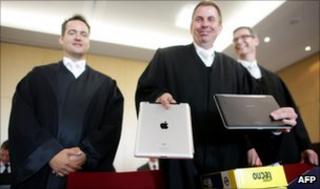 The patent wars roll on, with Apple winning another battle today in the German courts, ensuring that Samsung's Galaxy Tab will stay off the shelves in that country for the time being.
But here in the UK I've just heard of another case involving a much smaller business which has been drawn into one of these disputes.  
David Hart, whose digital agency Codegent has a sideline in making smartphone applications, took delivery of a hefty package from the USA this morning.
It was from a firm called Lodsys, and in David's words contained "a hundred pages of legal gobbledegook." But it was accompanied by the threat of legal proceedings so for a small business it was worrying as well as confusing
Lodsys, you may remember, is a business based in Texas which has acquired a number of software patents and has set about threatening a series of developers of popular smartphone apps with legal action unless they agree to pay licensing fees.
And that was the gist of the letter received by David Hart this morning.
In it, Lodsys asserts that it owns a series of US patents that cover a wide range of interactions between app users and providers. These range from providing online help, to conducting online subscription renewals, to selling upgrades. In other words, just about any aspect of the way a smartphone app might operate.
With the letter came a series of illustrations of how one Codegent app - which teaches you Chinese - had made use of this patented technology.
One screen shot illustrates a patent on "units of commodity that can be used by respective users in different locations" which has apparently been employed in Codegent's Learn Chinese Android app.
Unsurprisingly, Mr Hart was more baffled than ever: "Are they seriously saying that they've patented numbers?" he asked me.
Some might choose simply to ignore such a letter, but further down comes the information that Lodsys patents have already been licensed by major firms including Apple, Google, Nokia and Microsoft. The implication being that if giants recognise the validity of the Lodsys patent claims, then minnows better follow suit.
What the letter does not say is that both Apple and Google have told Lodsys to lay off iPhone and Android app developers.  Apple says it has licensed some of the patents and that means anyone developing apps for its platform does not need to pay again. And Google appears to be going further by challenging the validity of some Lodsys patents.
"We've asked the US Patent Office to reexamine two Lodsys patents that we believe should never have been issued," says Kent Walker, Google's General Counsel. " Developers play a critical part in the Android ecosystem and Google will continue to support them."
What this highlights, say critics of patents,  is the absurdity of a system which makes it far too easy to claim ownership of dubious software innovations and then use them as legal battering rams.  After all, the figures show that in 87% of cases where patent claims are re-examined they are either cancelled or substantially altered.
So where does that leave Codegent? Still in a state of uncertainty. "We haven't got deep pockets to pay lawyers," says David Hart. " Are we going to be shielded by Apple or Google? Should we just ignore the letter? What we want is clarification."
And of course the irony is that the big players like Apple and Google are themselves knee-deep in the business of using patents to try to batter their opponents in a fiercely competitive smartphone market.  
There are still plenty of defenders of a patent system as a vital protection for inventors which fosters innovation. But when small firms are put in fear of multi million dollar lawsuits by businesses whose only business is patent-licensing, that argument looks hard to sustain.
Lodsys did not respond to a request for comment, but previously Chief Executive Mark Small told me the firm had "made the decision not to do press interviews and apply our resources to licensing discussions".