Jeremy Hunt: Google and co must take on pirate sites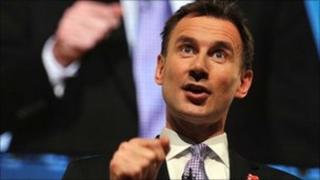 For Britain's biggest internet firms tomorrow will present a tricky political challenge.
The Culture Secretary Jeremy Hunt will tell a television industry gathering that he wants internet service providers and search engines - by which of course he means Google - to play a far bigger role in combating piracy.
Mr Hunt will be addressing the Royal Television Society in Cambridge, and will start to give some ideas of the shape of the forthcoming Communications Act, which will dictate the way the media are regulated in Britain over the next decade.
In part of his speech he will turn to the question of regulating the online world, emphasising that the law should apply online in the same way it does in the real world. Here's what he's expected to say:
"We do not allow certain products to be sold in the shops on the high street, nor do we allow shops to be set up purely to sell counterfeited products. Neither should we tolerate it online. We intend to take measures to make it more and more difficult to access sites that deliberately facilitate infringement, misleading consumers and depriving creators of a fair reward for their creativity."
He'll float a number of ideas including:
A body modelled on the Internet Watch Foundation, charged with identifying copyright infringing sites against which action could be taken.
Asking ISPs and search engines to make it harder to access such sites once a court has decided they contain unlawful content.
Making advertisers responsible for removing adverts from these sites.
Asking banks and credit card services to stop offering their services to the sites.
In other words, the government wants to make piracy sites harder to find and harder to make pay - and it believes internet giants, from Google to BT, have a responsibility to play their part.
Mr Hunt will be taking this message to gathering of many of the same television executives who listened to Google's Eric Schmidt at the Edinburgh Television Festival. Mr Schmidt's message of deregulation and peace and love between TV and the net seemed to go down fairly well last month.
But a TV industry increasingly anxious about the threat to its profits from the online world may be more sympathetic to the Culture Secretary's promises of protection. For Google, though, responding to this call to take responsibility will involve some very tricky politics.