Twitter trouble for Netflix over Qwikster launch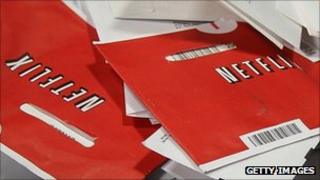 Netflix's plans to re-name its DVD rental business Qwikster have hit problems.
While the firm has secured the web domain for Qwikster, the Twitter handle for it is the property of an American man called Jason Castillo.
Mr Castillo had let the account languish until Netflix announced its intent to re-launch its DVD business.
Now he is debating how much to sell the account for and will not hand it over until he is "making bank".
Handle sale
Netflix boss Reed Hastings unveiled Qwikster via a blogpost that explained why the DVD-rental-by-post service was being re-named.
The website for Qwikster has been secured and it promises that the service will be coming soon.
However, Netflix did not secure the Twitter handle for Qwikster which was created in April by Mr Castillo. Commentators looking through Mr Castillo's tweets noted his fondness for football, profanity and referencing marijuana.
The Qwikster account was moribund for over a month before Netflix made its announcement. It returned to life when Mr Castillo realised that the thousands of followers he had suddenly acquired were arriving because of the announcement.
Christopher Hofman Laursen, director of the European Domain Centre, said Netflix had made a grave mistake in not securing the Twitter handle before the launch.
"Every company should be on social media now, that's where all the traffic has moved to," he said. "All the communication today between companies and customers is on social media."
Another good reason to be involved in social media, he said, was to help companies manage how they are perceived and for handling customer complaints.
Mr Hofman Laursen said there were precedents for selling Twitter handles. One of the best known examples is that of Israel which bought the @Israel handle from a Floridian pornographer called Israel Melendez for a five figure sum.
While Twitter's terms and conditions rule out direct sales of an account, it will act as a negotiator to pass control from one party to another as happened in the @israel case.
CNN managed to skirt the sales ban by employing the owner of the @cnnbrk account as a consultant and transferring the account to the news service as part of his employment contract.
Twitter will also act for trademark owners if it suspects someone is "squatting" on a handle to cash in. It is not clear if Netflix owns a trademark on Qwikster and if it can use this avenue to secure the name.
Sales of Twitter accounts are still quite rare but the buying and selling of web domains is well established. The most expensive domain was insure.com which changed hands in 2009 for $16m (£10.2m).
There can be embarrassing consequences for companies that do not secure a web domain to match their business strategies. One of the most famous mis-steps involves consultancy PWC which re-branded itself as Monday.
It set up a US site called introducingmonday.com for its re-launch but neglected to buy introducingmonday.co.uk which was soon adorned with a song mocking the consultancy.