Viewpoint: Pearson on the rise of 'engaging' e-textbooks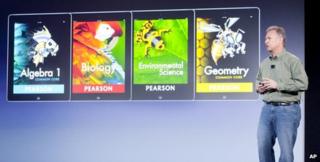 The world's biggest educational publishing company Pearson has given its backing to Apple's new range of iBooks textbooks.
The London-based firm's initial releases include its maths and biology titles which are already available in paper and other digital forms in US classrooms.
Pearson's relationship with Apple has faced problems in the past - most notably over the firm's desire to control the subscription process for its FT app which ultimately led to the software being removed from Apple's online store. Pearson now offers a web-based app as an alternative.
Despite this "bump" in their relationship the US firm was keen to promote Pearson's involvement in its venture at its New York launch.
The BBC asked Pearson's director of digital strategy to explain the significance of the event.
Genevieve Shore, Pearson
New York's Guggenheim Museum, one of that great city's iconic buildings, had a tortuous early history.
Its designer, Frank Lloyd Wright, did not favour Manhattan as its location and his building took 16 years to complete.
Still, since the late 1950s it has become a cultural centre, an educational institution, an international network and a monument to its founders' adventurous spirit.
On Thursday, a little more than 50 years on, the Fifth Avenue landmark provided an inspiring backdrop for an event that we may look back on as ushering in a new, adventurous chapter in reading and learning.
Like the museum, the application of digital and mobile technologies to books and learning has a history that spans decades.
And on Thursday at the Guggenheim the story moved on, as Apple launched its new education plans, and as we at Pearson unveiled a new wave of interactive digital books and learning programmes for the iPad.
These books are designed to take learners of all ages on their own, brand new adventures of discovery.
We've taken some of our most respected school textbooks and other popular titles and added video, 3D animation, thousands of interactive tools and test questions.
They cover topics from trigonometry to T-Rex and equations to elephants. We think that they will inspire and engage students, who will be able to see for themselves the wonders of how a heart beats, how a plant turns light into food, or how dinosaurs once prowled the earth.
Our initial focus is on America, but this is only the first wave. We're planning to create similar books in more subjects, for different levels of learning and more geographic markets around the world.
We believe that digital and mobile technologies - built around the needs of talented teachers and engaged students - offer a genuine chance to improve learning.
The 5,000 test questions embedded in these new books - which allow students to check their understanding on the go, rather than wait until the end of the course - are just one example.
Just last week, British Education Secretary Michael Gove argued that education had lagged behind the workplace in being transformed by technology.
He said that many students were "bored out of their minds" by the way computing is taught.
Our hope is that these new kinds of books - and the concoction of educational expertise, beautiful design and technological know-how that make them possible - can play some part in making learning more engaging, more inspiring, more effective.
They might just entice students from three to 103 to rediscover the joy of learning and their own adventurous spirits.
In much the same way as a world-class cultural institution like the Guggenheim.
Genevieve Shore is the chief information officer and director of digital strategy at Pearson