Apple factories to face independent inspections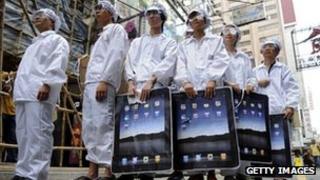 The working conditions in factories which produce Apple products are to be inspected, the computing giant has announced.
The Fair Labor Association (FLA) will audit several suppliers, including Foxconn in China, at Apple's request.
Safety at the factories has come under scrutiny after a series of fatal accidents and suicides in recent years.
Apple chief executive Tim Cook said: "Workers everywhere have the right to a safe and fair work environment."
He added: "Which is why we've asked the FLA to independently assess the performance of our largest suppliers.
"The inspections now under way are unprecedented in the electronics industry, both in scale and scope, and we appreciate the FLA agreeing to take the unusual step of identifying the factories in their reports."
The FLA's president Auret van Heerden will lead the investigations which will see employees interviewed at Foxconn's large factories in Shenzhen and Chengdu.
Apple said results of the first assessments will be published in early March.
Further inspections will take place at factories run by Quanta and Pegatron later this year. In total, the audit will cover suppliers responsible for 90% of Apple products.
Suicides
Many of the other big tech firms outsource manufacturing to Foxconn and other Chinese suppliers.
However, market leader Apple tends to be singled out because of the huge profits it makes.
Last month, the company was the subject of aNew York Times investigationwhich detailed alleged dangers at its suppliers' factories.
In May 2011, two people were killed after an explosion at a plant in Chengdu.
In June, after several suicides, Foxconn installed suicide nets to factory living-quarters at its Shenzhen factory. It also said it raised wages and shortened working hours.
Foxconn, China's largest private sector employer, has more than a million employees worldwide.
Another Apple supplier, Wintek, came under heavy scrutiny when 137 workers in eastern China were injured after they used a poisonous chemical - n-hexane - to clean iPhone screens.
Apple said it has audited every final assembly factory in its supply chain since 2006. The results of those audits can be readon the company's website.
The New York Times investigation noted that the audits had uncovered cases of under-age working and staff being paid less than the minimum wage.
A petition calling for Apple products such as the iPhone to be made "ethically" hasattracted more than 50,000 signatures.