Mobile firms back new GSMA app privacy guidelines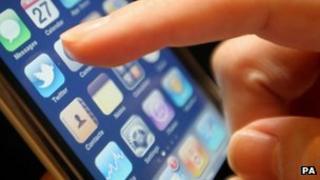 Some of Europe's biggest mobile phone companies have signed up to new privacy guidelines published by the GSMA.
The body which represents mobile operators hopes it will help users understand what personal information apps may "access, collect and use".
Several companies have said they are starting to implement the guidelines in apps they produce.
The policy's publication follows concern that some apps were using customer data without permission.
Anxieties about smartphone app privacy were raised after the makers of Path and Hipster apps admitted uploading user contact data without explicit consent - they later apologised and changed their software.
Twitter also updated its privacy policy over concerns about how its mobile app used address book information.
And recent reports have lead to similar fears about the way other some other apps accessed private information.
"Recent headlines demonstrate the continuing need for ensuring privacy," the GSMA told the BBC.
"Consumers will ultimately seek out companies that pro-actively work to create a privacy-respecting experience," the spokesperson added.
Building privacy
TheGSMA says the guidelines encourage the developmentof apps that respect "privacy by design".
For example, before a phone user activates an application they should be told "what personal information an application will access, collect and use" and they should also be told "with whom it will be shared and for what purpose".
The guidance also covers how social networking apps retain data including when a user wishes to leave a service. The guidance states that users "must be able to delete their accounts, resulting in complete removal of all personal information and any content posted".
The list of companies who said they were implementing the guidelines included Orange, Vodafone and Deutsche Telekom.
But the guidelines only apply to their own apps. The GSMA said it hoped other app developers would apply the new principles.
"We strongly encourage all parties to consider the guidelines and how they might apply them in the interests of helping mobile users become familiar with the privacy implications of apps," a spokesperson said.
That was a view echoed by privacy campaigners.
"These guidelines are a good resource for app developers," a spokeswoman for Privacy International told the BBC.
"However, this is just the first step. We need the Big Three - Google, Apple and Microsoft - to develop technical solutions that prevent apps from having unwarranted access to personal information in the first place," she said.