Nuance provides voice control technology for Samsung TVs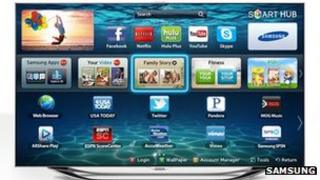 Voice recognition firm Nuance has announced that Samsung's latest top-end TV sets are using its technologies.
The South Korean firm is the world's best-selling television maker.
The news comes four months after Nuance said it had begun pitching its Dragon TV "natural language understanding platform" to manufacturers.
The California-based company has widely been reported to power Apple's iPhone assistant Siri - although neither firm will confirm it.
That led to speculation it would be involved in an Apple TV after the late Steve Jobs's biographer revealed the firm was working on one.
Expansion
"Consumers can use natural voice commands to change channels, search for content on the web... and connect with friends and family via Skype," a statement from Nuance said .
"They can even turn on the TV by simply saying: 'Hi, TV, power on.'"
The announcement follows an earlier tie-up with Panasonic to provide a voice guidance system to its Viera televisions.
Other recent partnerships include a deal to power voice-controlled car navigation and climate control systems to Ford cars, and a voice-to-text transcription service for T-Mobile in the US.
"They are cornering the market and it's a market they have dominated for over a decade," said Chris Green, principal technology analyst at Davies Murphy Group Europe.
"The Nuance engine, which is at the core of their technologies, is considered to be the best in the business so it's the logical choice for any TV maker to adopt.
"From a purely business perspective it may seem a concern that they tower over the market - but they have done that by proving they can cut it with mainstream users rather than by muscling anyone else out."