Children's social network Moshi Monster goes mobile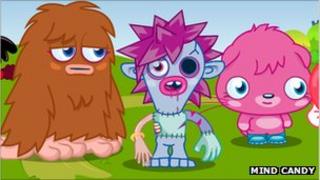 Moshi Monsters, the social network for children, is developing a full mobile version of the platform.
"We're working on it. It's something we get asked all the time by kids," said Michael Acton Smith, chief executive of parent company Mind Candy.
In the meantime, the firm is joining forces with mobile social gaming company Gree to offer children two games featuring the pet monsters.
Youngsters are increasingly demanding content tailored for mobiles.
Educational monsters?
"Kids love smartphones and tablets so developing entertainment for these platforms is going to be a huge growth area over the next few years as their access to them grows," said Mr Acton Smith.
"Mobile is a huge area and we're tackling it in a number of different ways. We're building a mobile version of the desktop game in-house, but we're also developing other stand alone apps internally featuring the 200 plus Moshi characters and stories," he added.
Moshi Monsters has 60 million registered users around the world. In the online world, children get to choose from one of six virtual pet monsters to create, name and look after.
Mind Candy is also looking to expand the Moshi Monsters brand into educational, video and music content.