Diablo sets record for fastest-selling PC-based game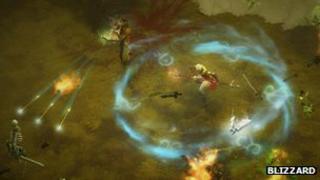 Diablo 3's creators say the title has become the world's fastest-selling PC-based videogame.
Blizzard Entertainment said that more than 3.5 million copies were sold during the first 24 hours of release.
It added that the total number of players had since risen to more than 6.3 million.
The firm apologised again for a series of glitches that have forced it to delay the launch of in-game auctions using real-world money.
The game takes place in a fantasy world in which players fight monsters and team up with other characters to save their land from "demonic annihilation".
It went on sale last week at more than 8,000 retailers as well as via a digital download from Blizzard's website.
"We're definitely thrilled that so many people around the world were excited to pick up their copy of Diablo 3 and jump in the moment it went live," said Blizzard's chief executive Mike Morhaime.
"We also regret that our preparations were not enough to ensure everyone had a seamless experience when they did so."
The firm had earlier acknowledged that problems with the game's achievement system meant some scores were not saved properly.
Hack attacks
Some users had also complained of receiving error messages and difficulty logging into the multi-player game.
The firm subsequently delayed the introduction of a marketplace where users would be able to sell each other in-game gold, weapons, armour and other materials.
The company will charge a transaction fee on each sale.
The feature has been linked to reports that some users had had their accounts hacked and items - or even characters - stolen.
Blizzard has advised gamers to use smartphone authentication apps to prevent the problem.
Despite these problems, one analyst told the BBC that he expected the title to increase its following in existing markets as well as its forthcoming launch in Russia and Latin America.
"Diablo was one of the original PC-gaming franchises that helped to push the activity into the mainstream, and the publisher also has a huge following," said Ed Barton, director of digital media at Strategy Analytics.
"I was slightly surprised they had server problems, bearing in mind they already had about 12 million people using their Battle.net system to play World of Warcraft.
"Gamers may have annoyed by the early problems but at the end of the day they won't go elsewhere and it's a fantastic, well-reviewed title."
Diablo 3 may have set a new PC-game launch record, but it still lags some way behind Call of Duty: Modern Warfare 3's console record.
Blizzard's parent company, Activision, said more than 6.5 million copies were sold on its launch day.