Google announces Jelly Bean Android system upgrades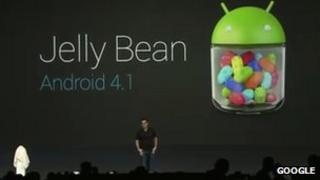 Google has announced Jelly Bean - the latest version of its Android system software.
The firm described the code as the "fastest and smoothest" version of its user interface to date.
It has also added the ability to type using speech recognition without needing to be connected to the net.
The firm revealed that 400 million Android devices have now been activated, four times as many as last year.
It added that the number is growing at a rate of 12 machines every second.
The Android 4.1 update also aims to take advantage of some of the company's recent search innovations including its Knowledge Graph - an effort to offer useful information rather than links in response to queries.
This has been integrated into its voice search service so a smartphone can respond to demands such as "how tall is the Seattle space needle" or "show me pictures of pygmy marmosets".
The effort poses competition to Apple's Siri service.
'Never see'
The update announcement comes at a time when Google has been criticised by developers for not encouraging users, and handset makers, to adopt the latest operating software.
According to Google's own statistics , less than 7% of Android users run the current latest version, Ice Cream Sandwich.
The overwhelming majority, almost 65%, run on Gingerbread.
ZDnet blogger Adrian Kingsley-Hughes said it was "hard to get excited about Android updates" because of this problem.
"'Jelly Bean' is yet another update that you're unlikely to see delivered to your Android handset," he wrote .
"Because the major players don't have any interest in delivering it, and carriers don't give a jot either."
Over-the-air
The firm also unveiled Google Now - which triggers useful information without the user having to ask for it.
Examples given included proposing the best route home based on a device's knowledge of when a user typically leaves work and the current traffic conditions.
In addition it suggests restaurants and their best dishes when the user walks down the street and offers updates about favourite sports teams based on previous searches.
The firm said it aimed to release over-the-air updates to existing devices to let them run the new software from mid-July.
Other new features announced included:
The ability to connect an Android phone to another bluetooth device such as a speaker system by tapping them together.
App upgrades that only require amended code to be downloaded and installed rather than the whole program.
App widgets that automatically resize to fit the room available on the home screen.
Offline map viewing to allow users to download entire city maps, designed for trips where lack of coverage, or high data costs, are an issue.