Google offers compromise on European Commission investigation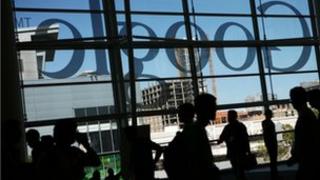 Google has written to the European competition commissioner proposing to change its search system to head off a legal battle over its market dominance.
Chairman Eric Schmidt wrote to Joaquin Almunia offering to address the four areas of concern.
The search giant has been under European Commission scrutiny since 2010, following complaints from rivals.
Mr Almunia has said failure to change Google's business practices could result in a hefty fine.
Details of the letter, written by Mr Schmidt have not been made public, but a Google spokesman said: "We have made a proposal to address the four areas the European Commission described as potential concerns. We continue to work cooperatively with the commission."
The four areas being investigated by the European Commission are:
how Google favours its own services in its search results
how it displays content from other websites
how it manages ads appearing next to search results
how its actions affect marketers' ability to buy ads on rival networks
A spokesman for Mr Almunia has confirmed receiving the letter but no details have been disclosed.
Potential penalties
If a settlement is not reached and the European Commission files a case against Google, it could end with the search giant being fined up to 10% of its annual revenue. Based on last year's revenue that could be as much as $3.8bn (£2.4bn).
Mr Almunia has said he would rather have a swift settlement than a protracted legal battle.
The Microsoft-backed Initiative for a Competitive Online Marketplace (Icomp) welcomed the concessions.
"Despite coming two years late, today's acceptance of the commission's 'framework' and possible offer of remedies is a hugely significant acknowledgement by Google of their market dominance and recognition of illegal anti-competitive behaviour," said David Wood, counsel for Icomp.
"It is essential that the proposed remedies receive vigorous scrutiny not only by the commission but also by third parties, to ensure they provide full redress for the damage caused by Google's behaviour and prevent its repetition.
"Any failure to do so will likely have grave consequences for online competition, innovation and consumer choice."
Google also faces competition investigations in the US, South Korea and India.
In the US the Federal Trade Commission looks set for a legal battle, over whether Google unfairly highlighted its own services in its search results.