Viewpoint: The image of British industry needs reinvention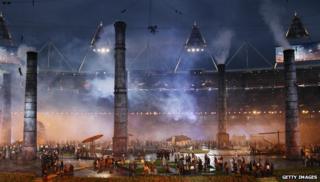 Danny Boyle's Olympic homage to the industrial revolution was breathtaking.
Gargantuan smoking towers erupted and workers toiled in hellish surroundings. At first I was delighted - what a stage to celebrate our Victorian forebears and a personal hero, Isambard Kingdom Brunel.
But have the pyrotechnics once again pigeonholed British industry as heroic, but polluting and slavish?
Dark satanic mills, smoking chimneys and forged steel rings - that's how "industry" still appears in many minds. A threatening, foreboding place. The last stop for a no-hoper.
A teacher once threatened me in no uncertain terms that if I didn't work hard I would end up working in a factory.
And actually, I did. It was fascinating and rather fun.
In fact, factories are quite common incubator - our head of research at Dyson only pursued his engineering career thanks to a summer job in a bottle factory.
The Victorians propelled technology and invention. Mechanisation, from the steam engine onwards, lightened the load of manual labour, creating jobs and wealth.
But factories are a different place now.
More fascinating, less dirty - Dyson now engineers motors in a room so clean no pollutants, pollen or dirt can damage the finely tuned technology being made by the highly calibrated production line.
On Friday, we also celebrated Sir Tim Berners-Lee's World Wide Web. Today's hi-tech industry owes as much to him as it does to an LS Lowry scarred landscape.
Brunel's tunnels, bridges and ships deserve recognition. But we must also paint a modern picture of technology if we are to inspire our children to walk in Isambard's big footsteps.
It has been an uphill struggle.
Ask a young child to draw an engineer and they'll likely draw a man with muscles, engine grease and a spanner.
The trouble is, today's picture is harder to paint.
Engineers have fewer defining features (I know, there are 900 that work here). They do not work on great, greasy engines.
Their work is ideas, sketching on paper, building prototypes from clever materials and designing in high tech laboratories. They work on nano-scale inventions, which although ground-breaking, admittedly, are harder to fill a stadium with.
In part, it is engineers' own fault.
To preserve our intellectual property we take ourselves away from prying eyes. But to move away from the nostalgia of the hammering man towards high technology and inventive, problem solving ideas, we need a cultural shift.
We must show young people that engineers are no longer clad in dirty overalls, but rather highly skilled masters driving technology forward, exemplified by Sir Tim.
We may no longer be the workshop of the world, but we do think, create and invent new technologies to export.
Microchip processors might be harder to illustrate than a Bessemer steam engine, but they too have created a technological revolution on the same scale.
Of the hundreds of thousands of smart phones used to capture Olympians in competition, most will have ARM microchips within them, designed in Britain.
As the world's spotlight falls on Britain and the economy falters now is the time to present Britain as a maker of high technology.
If Britain is to return from this economic blip as a strong, export driven economy we need to resurrect the spirit of the industrial revolution, but show the (rather cleaner) grit of today's modern manufacturing.
And if our modern technology is so subtly incorporated into our lives so that it goes unnoticed, we must try harder to tell the stories behind it.