Tencent vows to expand overseas video games business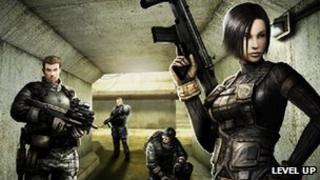 China's biggest video games publisher, Tencent, says it plans to ramp up its expansion into overseas markets.
The firm has just taken a major stake in a Singaporean maker of games for emerging markets, and already owns part of the US's Epic Games.
Its latest results show it online video game sales totalled 5.6bn yuan (£560m; $879m) for its April to June quarter, a 53% rise on the last year.
It said the share from overseas markets was "small" but growing quickly.
"We believe we are the leading social and web game publisher and operator in China today with over a 30% market share," said Tencent's president Martin Lau in a conference call with investors.
He added that the firm would now "devote more resources" to its international operations.
Gaming partnerships
Tencent's latest move abroad involved buying 49% of Singapore's Level Up for the equivalent of $27m (£17.2m).
The eight-year-old studio's titles - which include Perfect World and Combat Arms - have found success in Brazil and the Philippines, and it is also pursuing growth in India.
The deal follows last year's acquisition of a majority stake in California-based developer Riot Games. It was reported to have paid more than $400m for the creator of online battle game League of Legends.
Then in June Tencent announced it had taken a minority stake in Epic Games, developer of Gears of War and the Unreal game engine that powers many other leading titles.
It has also formed tie-ups to publish other firm's content in China.
It offers so-called "casual" titles from Cityville maker Zynga, and Plants vs Zombies creator Popcap. Germany's Crytek also decided to offer its higher-end first-person shooter Warface via Tencent in China ahead of its launch in the West.
Next up is are partnerships with two other leading firms from the US and South Korea.
California-based Activision is creating a new Call of Duty game made for the Chinese market. Like many of Tencent's titles it will follow a free-to-play model in which users do not have to pay for access, but will be charged to enhance their weapons and buy other perks.
Seoul-headquartered NcSoft is also reversioning its popular title Blade and Soul. The fantasy role-playing game will compete against World of Warcraft - which is offered by Tencent's rival Netease on the mainland - but seeks to distinguish itself by incorporating an Asian martial arts theme.
Western ambitions?
Tencent is also attending this year's Gamescom trade fair in Cologne, Germany, which may present an opportunity to discuss further partnerships.
But one industry watcher suggested the firm should steer away from a major push into the West for the time being.
"Focussing on emerging games markets such as Brazil and the Philippines makes sense given some initial success the firm has had there and, again, relatively high growth expectations in markets under-penetrated in terms of online games usage and spending," Ed Barton, from Strategy Analytics, told the BBC.
"However, I think entering some of the more lucrative markets in Western Europe or North America would prove extremely challenging given deeply entrenched competitors and the low level of audience awareness for Tencent.
"The cost of acquiring new players in these markets would be prohibitive and would require a sustained period of investment to crack."
Message in a bottle
Although games account for roughly half of Tencent's revenues it offers many other services within China.
Its QQ service is the country's biggest instant messaging platform. It is free to use but charges subscribers a fee for VIP services including weather forecasts and the ability to customise their profile.
In addition the firm is expanding its local e-commerce services, bringing it into competition with the sector's dominant players Alibaba and Youku.
And it is also pioneering new services such as Weixin.
The smartphone app - which allows users to record and send voice messages to each other - also includes an unusual Message in a Bottle feature.
Users can write a message, put it into a "bottle" and then throw it into a virtual ocean.
Other members then select a bottle at random and read the note and can decide whether to respond.
An international version of the app - with more limited functions - was launched under the name WeChat earlier this year.