Twitter helps adverts be targeted on its network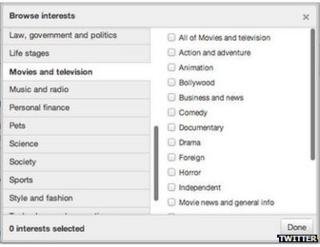 Twitter has taken further action to encourage advertisers to use it.
It will allow marketers to chose from 350 different types of interest to help target the most relevant audience.
Users will then be selected based on who they follow, the contents of their previous messages and other behaviour on the social network. Facebook uses a similar system.
The company said it would be a more powerful method than just knowing the users' age or martial status.
It is the latest development in Twitter's profit-making strategy - it started charging firms to post messages identified by a "promoted by..." tag on its network two years ago.
"By targeting people's topical interests, you will be able to connect with a greater number of users and deliver tailored messages to people who are more likely to engage with your Tweets," wrote Kevin Weil, Twitter's director of product management, in a post on the site's advertising blog.
"When people discover offers and messages about the things they care about on Twitter, it's good for both marketers and users."
The checklist of categories includes Bollywood movies, pet dogs and television cartoons.
Advertisers can also target people with similar interests to specific accounts.
It gives the example of an indie band promoter being able to select the accounts of other similar musicians and then have their ads shown to people Twitter thinks like that kind of music.
It marks a further attempt by Twitter to sharpen its business strategy.
The social network made changes recently to restrict the creation of third-party applications.
Any new app that wants to serve more than 100,000 users must now seek the company's explicit permission.
Critics said it could stifle the development of innovative third-party products.