China's Baidu launches mobile browser for Android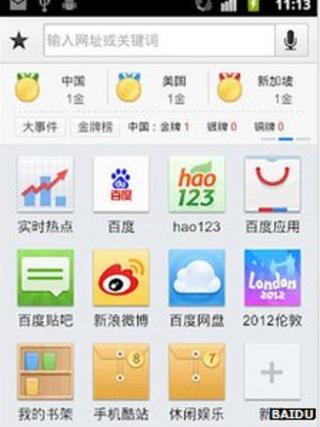 Chinese internet search giant Baidu has launched Baidu Explorer, a mobile browser for Android handsets.
The move comes weeks after the firm unveiled its own mobile operating system and a low-cost smartphone.
The firm said the new app would help drive more traffic to its search engine and boasted the software worked faster than other browsers.
Baidu has been facing competition from a fast-growing local rival, Qihoo 360.
Qihoo 360 - which began life as an anti-virus software provider - launched its search engine in mid-August.
Since that time Baidu's shares have fallen nearly 17%.
Qihoo 360 recently declared itself China's second most popular search provider.
Part of the reason for its success has been the decision to make the service the default option on its own mobile and desktop web browsers, replacing Baidu and Google. According to the firm's own figures, more than 270 million people use the products.
Cloud cash
To tempt users to switch to its service, Baidu says the T5 engine that powers its browser makes it 20% faster than Qihoo 360 and others' products.
To further bolster its mobile strategy, Baidu also announced plans to invest 10bn yuan ($US1.6bn; £1bn) into cloud-computing centres to offer more web-based services to its users.
One analyst said the moves made strategic sense, bearing in mind more than 70% of China's 530 million internet users access the web via a handset.
"Building for mobile is essential for all self-respecting internet firms but particularly so for firms such as Baidu, Tencent and Sina, who are keen to translate their dominance from the PC and laptop to the mobile and tablet world," said Duncan Clark of BDA China.
"Making profits on mobile services though is a challenge for all web companies who depend on advertising revenues.
"Online search, in which Baidu dominates [for desktop computers], is particularly well suited to mobiles - with applications like maps, location-based services - and with its own browser, the company can ensure faster and smoother access to its apps."
'Head and shoulders'
Baidu said it aimed for 80% of China's Android handsets to have downloaded its browser by the end of the year.
Baidu's director of international communications Kaiser Kuo told the BBC he was confident the browser, available in Chinese and English, was "head and shoulders above the others on the market".
"[It is] a very powerful mobile browser, equipped with a state-of-the-art engine that makes it possible to load pages quickly, stream high-definition video and play graphically demanding games," he said.
"We believe that users are very discerning, and they want the best available technologies. We're confident that it will attract many users."