Regulators demand patent licence clarification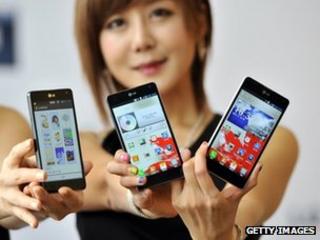 US and European regulators have called for patent rules to be "improved" following complaints about the way some smartphone makers had sought to defend their rights.
Tech firms have long agreed that some critical technologies should be offered on "reasonable" terms
But the regulators said more clarity is needed about what that term means.
The call came at a day of talks convened by UN agency the International Telecommunication Union (ITU).
More than 140 participants attended the inaugural event in Geneva.
They included company representative from Apple, Google, Microsoft, Nokia, Research in Motion and Samsung.
There were regulators from the EU and US Federal Trade Commission as well as the Korea Fair Trade Commission, China National Institute of Standardisation and Japan External Trade Organisation.
In addition, a number of patent officers and academics were involved.
The ITU has said it will now organise further discussions over the next 12 months to tackle the issue of "reasonableness".
It also said it would explore further whether steps should be taken to reduce the extent firms were seeking to ban rivals' products from sale on the basis that they had infringed what are known as standard essential patents.
Frand commitments
"I am seeing an increase in the use of standard essential patent litigation around the world," said the ITU's secretary general Hamadoun Toure at the start of the day's discussions.
"Although the standard and patent systems are both meant to spur innovation, the relationship between these two systems is complex and sometimes antagonisms arise."
The talks were centred on patents registered as being critical to an industry-recognised standard.
Examples involve ways to make use of the MP3 sound format, the MPEG-4 video coding system and 802.11g wi-fi wireless connectivity standard.
Patents at the core of such technologies are registered as being "standard essential" and owners commit themselves to license them on fair, reasonable and non-discriminatory (Frand) terms.
This means they cannot refuse to grant a licence to anyone, so long as they agree to pay an appropriate royalty.
In return, they expect a payment from any device or software maker which makes a product using the technology in question.
The problem is that the patent owner and product maker do not always agree terms, leading to devices being launched without licence agreements, resulting in lawsuits.
What may seem a "reasonable" deal to one side does not to the other.
Ban on bans?
Over the past year, Apple, Microsoft and Cisco have also been pressing for an agreement that if such disputes go to court, the patent owner should not be able to impose a sales or import ban on infringing products, even if a judge or jury found in the owner's favour.
They argue that such punishments should be restricted to disputes involving proprietary technologies which a firm might wish to keep to itself.
Nokia, Qualcomm and Ericsson were among the companies to resist the move at the UN's event, arguing that the threat of a ban acted as an incentive to potential licensees to strike a deal.
Without the risk of a ban, they said, product makers might simply refuse to a fair fee, resulting in less cash for research and development.
Much of the day's talks took place behind closed doors.
At a press conference afterwards, the ITU said Apple, Cisco and Microsoft were not the only ones who had called for change, but it declined to provide more detail beyond saying there was a "heated debate".
While companies differed on the need to overhaul existing rules, the ITU said regulators from either side of the Atlantic had decided that there was a need for more clarity "to better define the limits" of what a Frand-type licence involved.
A working group called the Telecommunication Standardisation Bureau will now hold two further days of talks before issuing a statement on Thursday, setting out how it intends to handle the issue over the coming months.
Officials indicated it would be at least a year before any major issues were decided.
But Florian Mueller, a patent consultant who attended the event, said he thought it would ultimately be the regulators themselves and the courts which would determine the issues.