Why we still love our black and white TVs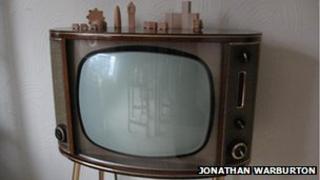 More than 13,000 households across the UK are still using black-and-white television sets, according to the TV Licensing authority.
London had the highest number of monochrome licences, at 2,715, followed by Birmingham and Manchester, it said.
TV Licensing spokesman Stephen Farmer said: "It's remarkable that with the digital switchover complete, 41% of UK households owning HDTVs and Britons leading the world in accessing TV content over the internet, more than 13,000 households still watch their favourite programmes on a black-and-white telly."
You have been telling us why you kept your black and white sets, here are some of your stories.
Brian Maley, Whitstable, Kent
Our Bush black and white 405 line TV is still working. We have it set up with a digital box and a systems converter.
I've worked with wireless and television all my life and have always been very interested in the workings of it.
I've kept my black and white TV because it's a fantastic piece of technology. I suppose I'm a bit of a collector really.
We cannot claim to be exclusive black and white TV viewers, it would not be the same watching David Attenborough's 'Africa' in black and white!
Jonathan McCormack, Belfast
I didn't realise there was such a low number of black and white TVs left.
I've had mine since about 1983, I think I was about 14 at the time. It was bought by my mum and dad for using my ZX Spectrum in my bedroom.
I've still got the ZX Spectrum too and that still works, although I don't use it much.
While not our main TV, this old portable is used in the kitchen for a few hours every day. We put it on whilst we're making breakfast for the kids in the morning.
We've got an LCD in the front room and I think we're on about our third in six years. They don't make things to last these days.
One problem with the black and white is everything today is in widescreen so we do miss a few inches off the sides.
It doesn't have a remote control, you have to turn a dial to change channels and when you turn it off there's a white dot in the middle of the screen that stays for a little while which I think's great.
Jonathan Warbuton, Welshpool
I'm a member of a community of like minded people who collect and restore these old black and white sets.
I am passionate about this old technology mainly because of my lifelong interest and understanding of valve technology.
Old TVs offer a challenging opportunity to test my skills.
Skills that range from diagnosing a myriad of obscure faults to actually repairing and them. I also repair and re-finish the wooden or Bakelite cases.
I would ask people to not throw away these sets when they no longer work or are no longer wanted, but to get them restored!
Jeffery Borinsky, London
I think my 1936 vintage Marconi phone 702 TV is one of the oldest working TVs in the UK.
It is the oldest TV in my collection, I have other sets dating from the 1930s to the 1960s but this one is special because of its age.
I also have a colour set for watching modern programmes.
More of your comments
I bought my first black and white TV, a 12 inch Bush portable, when I was 13 in 1973, having saved up my pocket money and paper round money, I just about managed to get it five miles home on the bus! It cost £66, which was fortune then for a schoolboy! Forty years on it still gives a good picture, albeit with a Freeview box tacked on. Oh for the days when they built things to last! David, Bristol
I love my black and white TV. It looks classy, it has a really retro feel to it. I don't watch a lot of TV, so actually it serves as a table for my cactus most of the time. Unless there's a nature or a science program on BBC! Agnes, London
We have a black and white television as a secondary TV. I would have one as a main TV, but you cannot buy them any more. Nick, Reading
I have a HD TV and am planning to get rid of it and buy a CRT TV. I hadn't considered a black and white before, but that might do that now... I can't stand HD TVs, they give off a high pitch signal that drives me mad. Steven, Peterborough