MIT consults staff and students over Aaron Swartz probe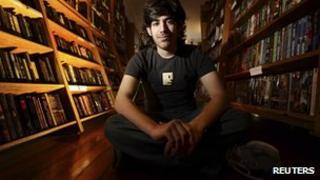 The Massachusetts Institute of Technology (MIT) has begun soliciting input from the university's "community" into its review into the suicide of internet activist Aaron Swartz.
The site allows staff, students past and present and their parents to submit questions to MIT's investigation team.
Mr Swartz, 26, was found hanged earlier this month.
He was accused of illegally downloading academic documents using MIT networks, a charge many had said was unfair.
Suggestions on the site include: "What support, if any, does MIT offer for students undergoing federal investigations or criminal charges? If none, why not?"
MIT has said its review will be complete in "a few weeks".
It will be a chance to rebuild its reputation following heavy criticism over its role in Mr Swartz's arrest and subsequent treatment.
According to police reports of his arrest, Mr Swartz was first reported to the authorities by an employee at MIT's IT department.
MIT told officers more than 70GB of data had been downloaded from JStor, a subscription service that offers academic journals.
If convicted, Mr Swartz could have faced up to 35 years in prison.
He also might have had to pay a fine of more than $1m (£630,000).
Reddit help
Following the death, MIT president L Rafael Reif praised the "brilliant creativity and idealism" of Mr Swartz, who had been an early developer of Reddit, a community news website.
"It pains me to think that MIT played any role in a series of events that have ended in tragedy," he said in a statement.
"Now is a time for everyone involved to reflect on their actions, and that includes all of us at MIT."
Away from the MIT investigation, digital rights campaign group the Electronic Frontier Foundation (EFF) invited Reddit users to weigh in with their thoughts on what it has named Aaron's Law.
The EFF said it hoped to reform the Computer Fraud and Misuse Act in the wake of Mr Swartz's prosecution and subsequent suicide.
It also wants to clarify the legal definition of what it means to have obtained "unauthorised access".
Others have defended the authorities' actions in prosecuting Mr Swartz.
In one blog post, Orin Kerr, a professor of law at the George Washington University Law School, wrote the actions of the prosecutors had been "based on a fair reading of the law".