Stratasys buys 3D printing firm MakerBot for $403m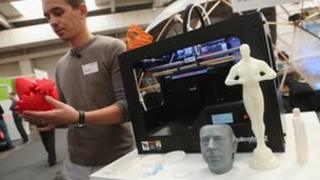 MakerBot, the company that sells "affordable" 3D printers, has been acquired by industrial 3D printing giant Stratasys.
The companies said it was a stock-for-stock transaction worth about $403m (£260m).
The deal will allow Stratasys to compete in the burgeoning consumer market for 3D printing, said experts.
But it has surprised some commentators, given that MakerBot has sold just 22,000 3D printers to date.
Retail store
MakerBot was co-founded by former school teacher Bre Pettis in 2009 and quickly became synonymous with low-end 3D printing.
Its $2,200 (£1,400) Replicator 2 is its most popular machine, favoured by hobbyists and manufacturers who use the machines to build prototypes and parts.
Ford Motor Company is one of its more high-profile customers.
The firm also runs a highly-successful community site which has become a leading marketplace for 3D printable digital models.
The site has more than 90,000 files which are downloaded about a million times each month.
Recently MakerBot opened a retail printing store in New York.
Design blueprints
"The last couple of years have been incredibly inspiring and exciting for us," said Mr Pettis in a statement.
"We have an aggressive model for growth, and partnering with Stratasys will allow us to supercharge our mission to empower individuals to make things using a MakerBot, and allow us to bring 3D technology to more people."
Stratasys's cheapest 3D printer is the Mojo which costs $10,000 (£6,500).
Some analysts believe the tie-up was an admittance that it could no longer compete with MakerBot in the consumer market.
" Stratasys is planning to grow into the consumer space," said IDC analyst Arnaud Gagneux.
"Soon the issue will move to the ownership of the design blueprint, licensing the designs, very much like the copyright issues with movies and music.
"Makerbot's online service, Thingiverse.com, helps address this issue about what objects consumers want," he said.
Whether the tie-up will represent the first step towards mass adoption of 3D printers in homes, remains to be seen, he thinks.
"We see clear niches for these devices in workshops, with architects, for short run prototypes and customised products," he added.
"However, in the current economic climate there are no indicators that households would prioritise this technology above other personal IT devices or leisure activities."
MakerBot will operate as a subsidiary of Stratasys and Bre Pettis will remain in charge.