Merrill Lynch settles US race discrimination suit for $160m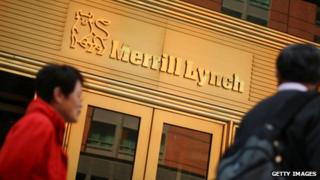 Brokerage giant Merrill Lynch has settled a racial discrimination lawsuit for $160m (£103.1m), which could affect as many as 1,200 employees in the US.
It is one of the largest sums ever paid in a discrimination suit.
"We are working toward a very positive resolution of a lawsuit filed in 2005," said Merrill Lynch spokesperson Bill Halldin.
The suit was first filed by George McReynolds, who worked at the bank for 30 years.
Mr McReynolds was joined by 16 other former and current African-American Merrill Lynch employees as part of the suit, although the settlement payout could apply to thousands more workers at the firm.
In the lawsuit Mr McReynolds, who worked in the Nashville, Tennessee office, alleged that African-American workers at Merrill Lynch offices were encouraged to pursue clerical positions in a segregated workforce and if they did become brokers, were not offered much in terms of support.
At the time the suit was filed, only 2% of Merrill Lynch's employees were African-American, despite an agreement the brokerage had signed with the US Equal Employment Opportunity Commission to increase that percentage to 6.5%.
A meeting on 3 September is scheduled to discuss the settlement terms in federal court.
"It has been a long journey and our clients have persevered through quite a bit of adversity," Suzanne Bish, one of the plaintiff's lawyers, told the BBC.
"We're hopeful now that the case has been resolved that there will be meaningful reform and a real difference in terms of opportunities for African-Americans."
Perseverance pays off
Columbia University law professor John Coffee said the case was more than twice the length of most class actions.
"The plaintiffs' attorneys showed extraordinary tenacity and creativity in sticking with this case after a long string of defeats," he said.
The amount of the settlement is much larger than sums offered in similar suits against Coca-Cola and Texaco, and it stands in stark contrast to failed efforts to convince US courts of sexual discrimination at Wal-Mart.
Ms Bish said the significance of the settlement coming on the 50th anniversary of Martin Luther King Jr's March on Washington was not lost on her clients.
"They wouldn't be brokers on Wall Street without the efforts of people who struggled before them and they're excited to continue the struggle," she said.