Nike shows off Fuelband SE activity-tracking wristband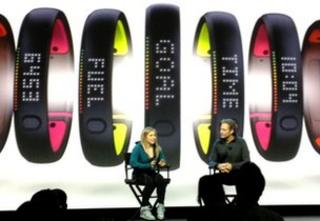 Nike has unveiled its second generation activity-tracking wristband, addressing criticism that its earlier device failed to recognise that some activities use more energy than others.
The Fuelband SE lets owners define the start and end of a session and then tag it - for example as yoga or basketball.
The firm's software then adjusts its "fuel" score accordingly.
However, speculation that Nike would add a heart monitor or other new sensor to improve accuracy proved incorrect.
The New York launch came a fortnight after the Fitbit Force was unveiled - a rival activity tracker that includes a height-measuring altimeter that can record how many stairs its owner has climbed.
Jawbone, iHealth, Garmin, Withings and Adidas are among other firms to offer dedicated fitness-measuring gadgets. Meanwhile Samsung and Sony are promoting their newly released smartwatches' ability to download and run Android-based activity-tracking apps.
One market watcher suggested Nike might have missed a trick.
"Since Nike launched the first Fuelband early last year there has been an explosion of fitness wearables and apps," said Nitin Bhas, senior analyst at the tech consultancy Juniper Research.
"On the one hand you have Apple's promotion of the new motion processor in its iPhone 5S, which extends battery life when the function is used, and on the other hand you have Fitbit adding new technology.
"But you mustn't forget that Nike has the fact that it's an established brand in its favour, unlike some of the other firms involved."
'Improved' internals
Other improvements to the Fuelband include an upgrade to the lower-power Bluetooth 4.0 technology, allowing the device to automatically synchronise its data to an iPhone rather than requiring the owner to carry out a series of button presses.
There continues to be no official Fuelband app for Android devices, although users can connect the gadget to a computer to upload their data to a website.
The firm also suggested a redesigned internal circuit board and other changes meant the device offered "greater flexibility" and "improved water resistance". Issues with the original model meant several users suffered error messages after several months' use, requiring the bracelet to be replaced.
Like its predecessor, the company suggests the Fuelband SE can be worn in the shower but should not be submerged for extended periods, for example while swimming.
The company said that its iOS app also introduced a feature allowing users to work together to hit a fuel score target as well as a way to better monitor how much energy was used at different hours of the day.
Nike also announced plans to expand an existing programme to encourage third-party firms to develop software that makes use of the information generated by the device.
Growing market
Analysts agree that the wearable tech market - which includes devices such as Google's forthcoming Glass eyewear - is set to expand, but differ over its expected size.
According to a new report from Juniper Research the sector will grow from $1.4bn (£878m) of annual sales this year to $19bn (£11.9bn) by 2018.
Analysts at the bank Credit Suisse are more optimistic suggesting a $50bn figure by the same date.
Tech research firm Gartner is more cautious suggesting a $10bn target for 2016. But one of its analysts suggested the sector would grow more quickly if businesses decided to equip their workers with such tech.
"If you don't have motivated and passionate employees they don't give you the extra discretionary effort, and there's some thinking that wellness programmes that encourage staff to be healthier may make them more productive and combat absenteeism," Mike Gotta told the BBC.
"But that raises the issue of privacy - where does the data go? Employees will be concerned if the information gathered could be used in a punitive way."
Nike is adding France, Germany and Japan to its existing Fuelband markets - the US, Canada and the UK.
It will be available from 6 November.