Facebook to target flood victims with volunteer help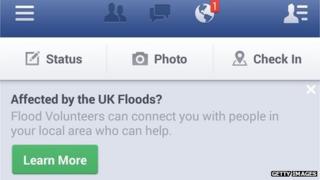 Facebook is to begin seeking out volunteers in flood-hit areas with targeted messages appearing in users' news feeds.
From Wednesday, a notice directing users to FloodVolunteers.co.uk, set up last week, will be displayed.
The website pairs people offering help with those in need of assistance.
The initiative arose after an event held on Sunday that looked at ways technology can help with the flood relief effort.
"Since Facebook reaches so many people in the affected areas, my colleague Pieter and I thought a newsfeed message to direct people to the Flood Volunteer website would be a simple way to help get help to people in need," said Alec Muffett, a Facebook engineer.
"We are excited that we've been able to roll it out so quickly."
The system makes use of recently released data from the Environment Agency, which provides almost real-time information on where floods are occurring around the country.
If an area becomes flooded, Facebook will use geo-targeting to target messages to those most likely to be affected. People who are not near flood-hit areas will not see any message.
Homes for pets
FloodVolunteers.co.uk was set up by London-based start-up Taskhub last week.
Facebook has said it will stagger the rollout of the flood warning messages to make sure the new site can cope with any surge in traffic.
Offers of help include homes for pets, removal services and temporary accommodation.
The Environment Agency has committed to making its flood data freely available only for the next three months.
If the data is unavailable after that time, the flood notices for FloodVolunteers.co.uk will no longer appear.