Action started by TfL in Uber taxi app row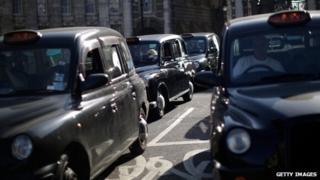 Action has been started by Transport for London (TfL) to secure a High Court ruling on the legality of an app which calculates the costs of taxi journeys.
TfL wants to know whether using GPS to calculate fares complies with laws which state only black cabs can have meters.
The row centres on the app, Uber, which calculates a fee and then dispatches a background-checked private driver.
TfL does not believe the app breaks the rules, but taxi drivers plan a protest.
Formal "letters before action" have been issued to Uber and the Licensed Taxi Drivers Association (LTDA).
'Severe congestion' protest
The Licensed Private Hire Car Association has also been informed that it may be called to take part in the case.
TfL said it did not believe Uber was infringing the law because its kit did not require a physical connection between the device and the vehicle, as is the case with the equipment used by black cabs.
But the Licensed Taxi Drivers Association (LTDA) said the app did equate to being a taximeter.
It plans a demonstration on 11 June to cause "severe congestion and traffic chaos" over the issue.
Previously the LTDA's general secretary Steve McNamara said it would be "issuing proceedings of our own".
Uber's London manager said he welcomed the action to "bring clarity" to the situation.
TfL regulates and licenses the taxi and private hire trades in the capital.