"Not enough books" claim Kindle Unlimited subscribers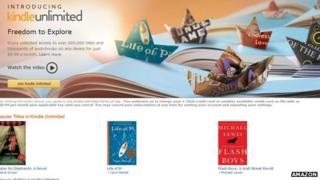 Two of the UK's biggest publishers are withholding books from Amazon's new subscription service.
"Kindle Unlimited" costs £7.99 per month, but readers will not get books such as The Lord of the Rings, Agatha Christies, or Gillian Flynn's bestseller "Gone Girl".
Amazon says more than 700,000 books are accessible through the service.
Penguin Random House and HarperCollins told Radio 4's You & Yours their books will not be available.
Described as a "Netflix for e-books", the set fee allows Kindle Unlimited users to access 10 books at a time.
Amazon hosts over three million books, newspapers and magazines - but less than a quarter can be downloaded using the service.
Publishers already have agreements in place with Amazon which limit the degree to which the company can discount their titles.
Avid reader Maxine Alexander from Morecambe said: "Kindle Unlimited gives the impression you can have whatever you want for £7.99 a month.
"But when I looked for various well known authors like Peter James and Agatha Christie, they didn't have any.
"Morecambe Library has more stuff that I would want to read."
Kindle Unlimited was launched in the UK in September, after widespread speculation.
Liz Thomson the editor of Book Brunch, a publishing trade magazine explained: "The big publishers like HarperCollins which hold the Agatha Christie and JRR Tolkien estates are not included.
"It's because they have signed up to an agency model, whereby the publishers set the price of books, limiting the amount Amazon can discount."
HarperCollins and Penguin have also both launched their own direct-to-consumer websites.
Amazon said: "There are many publishers participating in the programme and we expect to add more over time.
"We already know our US customers love the opportunity to discover new authors and genres, and that is what Kindle Unlimited now offers to our customers in the UK."