Taxi-app firm Uber hit by legal challenges and bans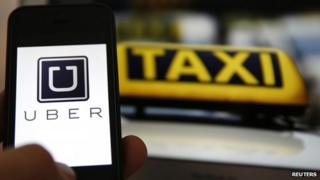 Taxi-app firm Uber has clashed with Indian authorities over the way customers pay fares.
It criticised "antiquated" rules that demand credit-card payments use a two-step authentication process.
The row follows Uber's suspension of its operations in Nevada after a state court banned it from operating there.
In addition, Uber has been declared illegal in Thailand, and it is fighting legal action in France that seeks to outlaw one of its services.
Legal challenge
The row in India arose after taxi drivers in the country said Uber drivers were breaking rules set by the Reserve Bank of India, which demands that any credit-card payment uses two-step authentication.
The Reserve Bank agreed that paying for a ride in an Uber cab via smartphone did break these laws and set a deadline of 30 November for it to comply.
In response, Uber set up a deal with smartphone-wallet company Paytm that meant anyone using that system no longer directly used a credit card and did not fall under the two-step requirement.
In a blogpost, Uber criticised the two-step system that remains in place for people who do not sign up for Paytm as "unnecessary and burdensome". It said such a system was "cumbersome for consumers and stifling for businesses across India".
It has also asked for a 45-day extension to the bank-set deadline, to give it time to update cars to handle two-step authentication.
Separately, Thai authorities who oversee taxi companies in the country have declared Uber illegal.
The Thai Department of Land Transport told the Bangkok Post that it had made the declaration because:
Uber vehicles were improperly registered
its drivers were not licensed
fares were being levied outside regulated rates
the service was unavailable to those without a credit card
The department has now started to find and fine Uber drivers. Those caught by police could face fines of up to 4,000 baht (£80) for breaking laws governing how taxis operate.
Uber has yet to comment on the ruling.
The Thailand decision is just one of many that have gone against the taxi-app firm in recent weeks.
In late November, Uber suspended its operations in the US state of Nevada following a regional court ruling that went against it.
The suspension came soon after a state court issued an injunction preventing it operating because it did not obey regulations that covered other taxi operators in the state.
Spokeswoman Eva Behrend said it was "unfortunate" that Nevada was the first US state to make Uber temporarily shut down. Uber added it would work with authorities to overcome the regulatory hurdle.
The bad news could continue for Uber as French lawmakers are set to decide by 12 December whether its Uberpop car-pooling service can operate in the country.
The legal case was begun by taxi companies, rival app makers, public transport operators and the government, who argue Uber's use of drivers who are not professional cab drivers broke laws.
Uber has argued that the laws covering professional drivers do not apply to its Uberpop service as it uses private cars.