'Revenge porn' site owner convicted of extortion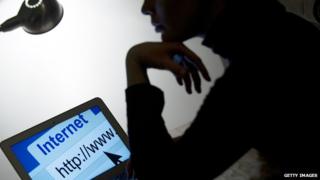 A man who ran a so-called "revenge porn" site has been convicted of identity theft and extortion.
Kevin Bollaert ran one site to which people submitted compromising pictures, usually of their ex-partners, and another that charged the subjects to have the pictures taken down.
He faces up to 20 years in prison after being convicted on 27 charges. He was not tried under revenge porn laws.
His lawyer had described his actions as gross and offensive, but not illegal.
"It ruined my life and I'm still going through it," one victim told the court in California.
She said she had been thrown out of her home after nude photos of her had been posted
She added: "I lost my family. They think that I brought shame on them. My reputation is ruined."
The woman was one of more than two dozen named as victims in the case.
Blackmail
Some testified they had suffered humiliation and fear when their private photos had been posted.
Prosecutor Tawnya Austin told jurors the victims had also been harassed by people who had tried to contact them through Facebook or by email.
Bollaert, 28, admitted knowing the pictures had been private and posted without the consent of his victims. He described the business as essentially a blackmail scheme.
He ran UGotPosted.com, on which the pictures were posted, and changemyreputation.com, which he used to extort money from his victims - whom he told to pay up to $350 (£232) a time to remove a picture.
He insisted that the site's users had posted the pictures, not him, and he was not convicted under California's revenge porn laws, which were not enacted until after he was charged.
Abuse
About 10,000 pictures were posted on the site, which required users to include the victim's full name. It also displayed contact details, including links to their Facebook and Twitter profiles, as well as details of their places of work and other personal information.
According to court documents, Bollaert is said to have made "around $900 (£596) per month from advertising on the site, and records obtained from his changemyreputation.com PayPal account indicate that he received payments totalling tens of thousands of dollars".
Revenge porn is so called because, while the pictures may sometimes be taken consensually, they are then uploaded without consent by an abusive ex-partner. In some cases, the pictures are also stolen - sometimes as a result of a hack.
An amendment to the Criminal Justice and Courts Bill making it a specific offence in England and Wales was introduced in 2014 and is expected to come into force this year. Plans to introduce a separate law making it illegal in Scotland were announced in October last year.
The San Diego County Superior Court jury was unable to reach verdicts on two charges of identity theft and conspiracy, and a judge declared a mistrial on those counts on Monday.
Bollaert's lawyer Emily Rose-Weber argued in court that her client may have conducted an immoral business that had taken advantage of "human weakness", but he had not broken the law by allowing others to post the explicit photos.
"It's gross, it's offensive, but it's not illegal," she said.