Blackberry unveils Leap with no physical keyboard at MWC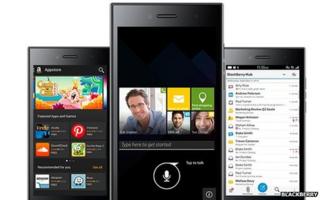 Blackberry has announced a touch-screen phone without physical keys, at the Mobile World Congress trade show.
The Blackberry Leap is not the company's first all-touch phone - but it may come as a surprise, since its chief executive said last March his focus was going to be "very keyboard-centric".
The Canadian company has also revealed it is bringing more of its software to rival platforms.
Sales of Blackberry phones are falling.
The company shipped 7.9 million devices last year, according to research firm Gartner.
That was a big drop on 2013's figure of 18.6 million units, which in turn was well down on 2011's tally of 51.5 million handsets.
A separate study by research company eMarketer indicates the number of UK-based Blackberry users is set to dip to 700,000 this year, having been as high as 2.5 million in 2013.
Crowded market
Blackberry's Leap runs on its proprietary 10.3.1 operating system and features:
a 5in (12.7cm) 720p HD resolution display
an eight megapixel rear camera
16GB of internal storage and a micro-SD card slot
built-in anti-malware protection
The specifications place it firmly as a mid-range, rather than premium, handset.
Blackberry says it believes the phone will appeal to "career-building" young professionals and businesses that value security and privacy.
But one expert thought the device might struggle to find a market, bearing in mind Microsoft, LG, Motorola and Sony were among other companies to have released rival mid-range phones over recent days, adding to an already crowded market.
"Looking at how Blackberry sales have fallen off a cliff, it seems to me difficult to see how it will come back from that, particularly when you're at an event like Mobile World Congress and seeing so many other mid-range, middle-of-the-road handsets," said eMarketer analyst Bill Fisher.
"Blackberry is not doing enough to differentiate itself at a time [when] we're seeing a plethora of such phones in this space."
Ben Wood, from the CCS Insight consultancy, was only slightly more positive.
"Blackberry will find it tough to compete with the iPhone and Android devices, but the Leap will be essential to offer a more rounded portfolio of phones," he said.
Blackberry also briefly teased a more distinctive device at its press conference - a curved-screened phone with a keyboard that slides out from below its screen. However, it did not name the model or provide further details.
Software bundles
The other part of Blackberry's strategy is to provide access to its services to rival platforms.
The company announced it would offer three new different bundles of services - called Experience Suites - for a fee, to iOS, Android and Windows Phone handsets.
These provide access to its calendar, secure email, Universal Search, password management and virtual-keyboard tools, among others.
"[Customers] want Blackberry's legendary security and core productivity and collaboration capabilities while still being able to choose a device that matches their lifestyle and personality," said the company's chief executive John Chen.
The pitch comes at a time when Google, Microsoft and Apple are touting their own apps and services as being business-friendly. But one expert said the Blackberry Experience Suites could prove popular.
"There's definitely still a demand and fondness from the business community for Blackberry products," said Chris Green, from the Davies Murphy Group consultancy.
"You can't underestimate how much the business world likes the Blackberry platform, so doing more to integrate it with their back-end systems to run apps on other devices will go down well."
Mr Fisher added that it might even bring some users back to the company's own phones.
"Blackberry's software is good, so potentially there could be a halo effect if people see they like the apps and are then attracted back to the hardware," he said.
"There's money to be made in software, but if you can monetise that in your own operating software and hardware, there's even more to be earned.
"But is it too late for that [for Blackberry]? Possibly."