Feminist site attacked on International Women's Day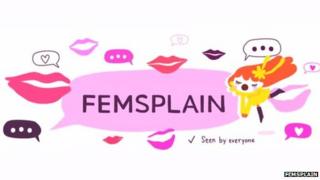 A community-style blog encouraging female contributors to write about their experiences was knocked offline during a day for the global celebration of women.
Femsplain was unavailable for several hours during International Women's Day on Sunday, 8 March, after a Distributed Denial of Service (DDoS) attack.
It is unclear who was behind the attack.
The site was launched in October 2014 and has been crowdfunding on the net.
It reached its $25,000 fundraising target last week.
"We're more than a website or events - we're a movement. We are providing a safe space to connect, learn and grow with other female-identified people," reads the introduction to the site.
"Our goal is to highlight all the amazing diversity of women on the internet who might not have another outlet to share their experiences."
Women have increasingly reported being threatened and harassed online, especially on social media platforms, in recent times.
In 2013, Caroline Criado-Perez received death threats after successfully campaigning for writer Jane Austen to appear on £20 notes.
Under attack
DDoS is a technique in which many computers are used to flood an online service with requests in an attempt to overload its systems.
When the site went down, founder Amber Gordon tweeted that Femsplain frequently experienced attempted attacks.
"We constantly have people attacking us and attempting to bring our website down. It's unfortunate but the reality of our mission," she wrote.
"Ultimately, whoever is behind the attack hasn't achieved anything or even articulated a criticism of feminism or Femsplain specifically," said Jess McCabe, former editor of feminist website the F Word.
"Far from silencing anyone, it will only help amplify Femsplain's voices."